I felt my XM-3500Li scoot needed some sort of BMS for its liFepo battery pack after noticing the cell voltages wandering up and down and felt some cells were getting too far apart to use the supplied charger.
I had a couple of FMA Cellpro 10s chargers that I use in my electric RC planes that had alot of features that would help me get the cells in the pack balanced. These chargers are 10 amp and capable of charging 10s packs. The chargers support A123 chemistry, measure cell internal resistance, have a PC interface and are Active balancing (Charge each individual cell at up to 1 amp after 90% charge. The chargers are rated to charge up to a 60ah battery, granted it would take some time. Two chargers with power supplies and PC interface run approx $600. Which is pretty inexspensive insurance.
I usually use the supplied Xtreme charger to charge the 3500Li pack to 70 volts and then use the FMA Cellpro chargers to balance the pack. It takes approx 1 1/2 hours to charge and balance the pack to 3.65V per cell from 80% in accurate balance mode. Cell balance variation is usually within .014V on my pack.
I don't think that I need a discharge BMS at the moment as the cells stay pretty close to each other as the pack discharges.
This is a graph showing 34 minutes of balancing and the effects.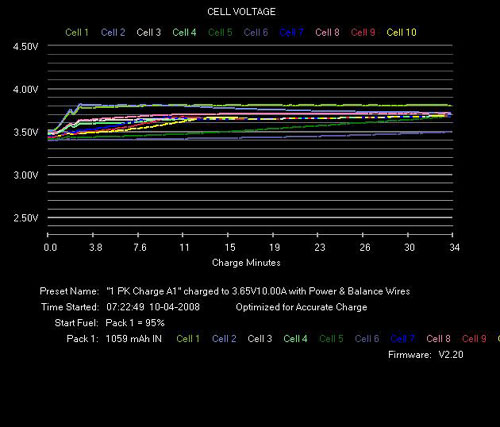 I chose to set this up outside the scooter first to get the harness work done, do some test runs and debug. This picture shows the set up with the pack, harness, battery chargers and power supplies. The harnessing and adding the balancing connectors for the charger took a full day of work.
Gordon