I have a weird idea and as with most I'm sure there is a fundamental flaw with it but here it is.
In this the sun gear is the primary motive motor, the planets are controlled by a brake motor and the ring is the final drive to the wheel.
While the primary is running full steam or in it's peak efficiency rpm(load dependent?) the wheel would not move unless the planets where slowed down. By varying the resistance to the planets the output could be varied so you could have a crazy cvt with no belts and weights. That's my thought.
I got this idea when I heard diesel electric trains use their motors as brakes and run the power through a large heat sink to dissipate the heat. I know with an alternator that by applying more power to the rotor more power will come from the stator and also make it harder to turn, though it couldn't stop if you wanted to use the power the st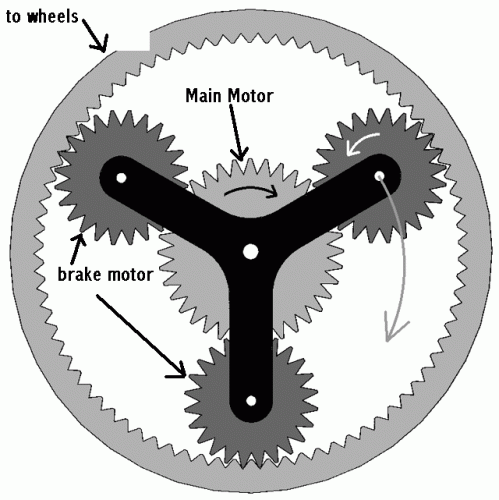 ator produces to feed back into the rotor. I want to know if there exists a motor that can be used as a brake that requires no out side power just a variable resister, also heat is wasted energy so I want to know if it would produce heat would it be negating the benefit of even having a cvt?
I know I'm on to something with the planetary cvt but have a feeling it's back to the drawing board with the motor brake reducing the speed of the planets.
Thanks- Ryan.