The XM-3500 has been known to have some pretty miserable brakes. This is mostly due to its mock ABS brake system or TCB Traction control braking system. Which consists of an air pot attached to each brake caliper. The air pots are air cylinders with a rubber diaphram inside that absorbs some of the force of the brake fluid as you apply the brakes.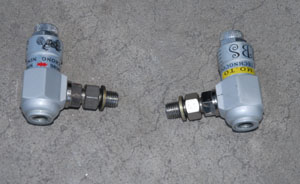 Do not attempt the following if you are not comfortable and experienced working on a brake system, get somebody that is qualified to do the work for you.
It is pretty easy to remove these air pots and rearrange the brake lines to work. The front brake line can be reattached easily. but the back brake line which consists of a rigid brake line with two flex lines on each end. You will need to swap the front and back flexible lines so the banjo fittings will work without having a big kink in the back line. You will also have to BLEED THE BRAKES when you are done.
After completing this, I had considerably better brakes and brake feel thru the brake levers. The back brakes still had a little bit of squish factor due the length of rubber brake lines used on this bike. The rubber brake lines have too much give to them and swell or flex as the brakes are applied. Finding some stainless braided lines for the back would firm up the braking even more.
Gordon
Front Brake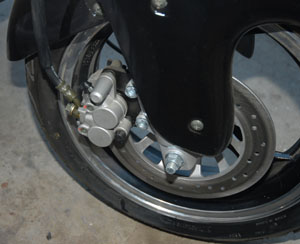 Back Brake