It has been getting warm enough here in the afternoons to get some scoot riding and trying to get things to work better.
This weekend I swapped out the XM speedometer with an EVD speedometer to see what happens.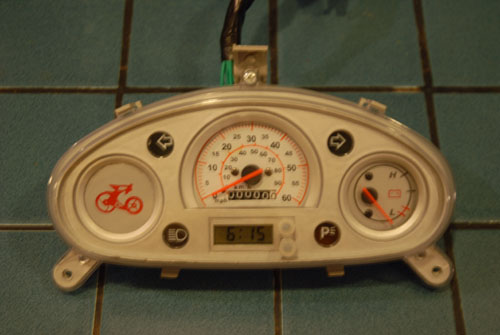 I had to do some mods to the XM graphics insert to get the EVD speedo in. I cut the graphic insert to remove the XM speedo dial graphics and cut the red scooter graphics into a circle and glued it into the silver mask. The EVD speedo was a bolt in change.
I did find that the EVD speedo was off compared to GPS and had to recalibrate the thing 3 times to get it accurate. Calibration consisted of removing the 0mph stop pin and letting the needle find its natural stop point. I then marked this location on the dial with a pen. I then gently pulled the needle off the speedo shaft using my thumb and finger. I marked the distance I wanted to move the pointer from the natural stop point and carefully reinserted the needle on the shaft with out twisting the shaft. The 0 mph stop pin needs to be glued back in place.
The biggest improvement was being able to read and accurate speed in MPH on the big scale as opposed to the miniscule small scale of the XM speedo. Amazing those little things that bug the crap out of you on a ride.
Gordon