Hi Forum Members,
I've sold my car and I have the money in hand and I need your help. I have a disability that prevents me from operating a motor vehicles, so it's the bus or an electric bike. I don't want to screw-up and buy the wrong thing and be stuck with a piece of junk. I have narrowed my choices to 2 bikes, the X-treme XB-700Li and the Motorino BTr (see links).
http://www.e-ride.ca/Electric_Scooters/Motorino_BTr.html#
I have read lots of good things about the XB-700Li and lots of bad things about the importer X-treme. I know very little about Motorino and the quality of their products and validity of their claims, ie range, speed, etc. I need to get some answers from current owners of both before I part with my hard earned cash. The price of both bikes is within a few hundred dollars of each other.
My job has me traveling to client's offices during the day. The furthest office is 11 miles from my home, with the rest, all on the way home. So minimum daily mileage, going to and from, is going to be probably 25 miles per day. While I may have some days for opportunity charging, some days I may not. I live in Southern California, so temperature is not an issue.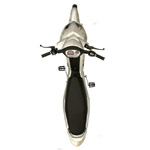 1. Are these a good quality reliable vehicles, that I can drive for a year or more, doing regular basic maintenance? How many miles have you driven yours in total?
2. What is the REAL range of a fully charged battery pack? Is the mileage getting better or worse over time as the battery pack is cycled? Motorino is 60 volts/20amps, so the XB600 modifiers may what to chime in with their experience as this should be identical to some of their set-ups. Is the 40amp Lithium battery of the X-treme far superior to the SLA in the Motorino considering my planned usage.
3. Did your bike get delivered damaged or was everything 100% O.K.
4. Does the XB-700Li have enough storage room for a full face helmet or will I have to add a top mounted box? The Motorino will need a top mounted box purchased.
5. How big of safety issue is the 20mph speed in traffic. Would 30mph make you feel safer or is this not an issue. Motorino says their bike can be modified into a "moped", attaining 30 mph by removing the governor. I haven't read of anyone successfully modifying an XB-700Li to gain additional speed.
6. Hills are not a major part of my daily commute, but we do have a few. Mororino says they have a special hub motor "CCT" (see link) that has electronic gears to help it up hills. Does this sound like the real deal or hype? What has been the experience of X-treme owners in regard to hill climbing as I have heard the "shunt mod" won't work on this bike.
7. How big are these bikes, I never see pictures of any human(s) sitting on the XB-700Li. The Motorino is built on a 125cc dirt bike frame and looks small for two people.
8. Disc verses drum brakes, does it matter in this class of vehicle?
10. Would you buy the bike again and/or would you recommend it to others.
Thanks for taking the time to read and respond.