I've been driving my XM-3500Li now for 3 weeks and I have added about 400 kilometers on it.
I am very happy and love this machine despite its flaws.
My front brake makes a very slight scraping noise once per revolution. When I brake hard it is a louder noise and somewhat disturbing to me.
This weekend after leaving it sitting still overnight during which it was sprayed with a sprinkler, I noticed some oxidation possibly left by metal contacting the disc of the brake: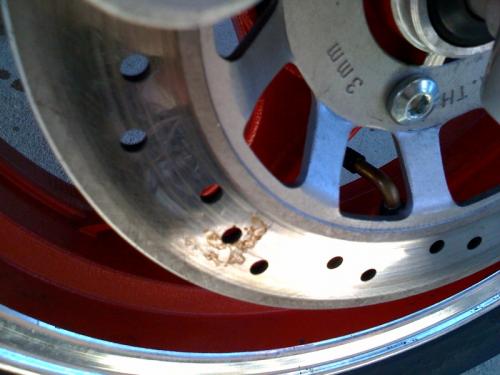 I am trying to determine whether I need to adjust the brake, replace the pad, or replace the mechanism.
I bought some tools but I am not sure how to approach the task and need to set aside a bright sunny day when I have nothing to do since this is my main mode of transit.
The rear break is quiet and works great although it is not as powerful. I hope this is not a safety issue.
Where would I obtain replacement parts for this if I wanted to replace or upgrade?
Steven