Hi guys,
Thought you might like to see some pictures of a kart I've built for my 5 yr old. I've been working on it off and on since October 2008! I bought a Jambuster 24v 250W scooter off ebay as the donor vehicle, cost £10! From that I got the motor, speed controller, throttle, rear wheels, band brake, cables, power indicator and key switch. The front wheels are heavy duty sack truck wheels, again off ebay, £6/pair. I welded the frame up from 1" box section, and made everything else from bits of flat metal bar etc scrounged from anywhere I could!
As the brief was cheap as poss. (just as a challenge to myself, otherwise iy's too easy just to go out and keep buying bits) I made the steering wheel from laminating four sheets of ply together then routering out the wheel! The electric box at the back contains the batteries (again off ebay, 2x 12v 7.4ah), speed controller, all the connections, fuses and relays. I've added a horn and the indicators off the scooter just for fun!
For safety I bought a 4 channel RF transmitter and receiver device off ebay (recommended by one of your members, £15 from Hong Kong) I've connected the wires that go to the micro-switch on the brake lever to the relay in the RF receiver, effectively I can now stop the motor on the kart remotely from up to 300m, a great safety feature if my nipper gets over-confident! Also. the hormn wire too so if she annoys me with the horn I can stop that too!! The seat is an old toddler car seat modified to fit the kart, but provides a full harness and a bucket seat! I've fitted an adjustable stop to the throttle pedal so I can limit how far down the pedal can be pressed, effectively contolling the amount of power she has access to. As she gets more competent I can give her a bit more power!
The dimensions mean it's got a really wide track, 900mm long overall by 750mm wide overall, this should make it stable in corners but also, the narrow tyres at the back mean it should skid before it flips over.
Anyway, have a look, any comments, suggestions, questions etc would be interesting. My daugter loves it anyway!
Millie on the test bench trying it for size!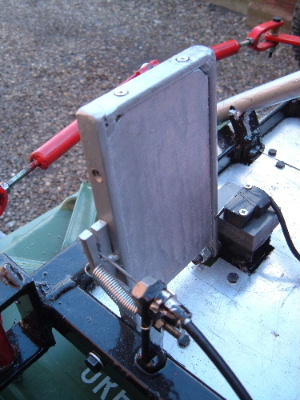 Brake pedal with motor cutout switch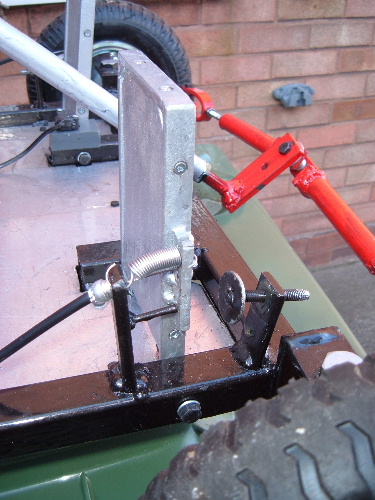 Throttle pedal showing travel limiter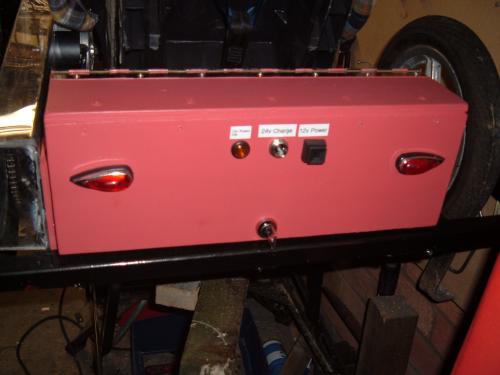 Rear battery and control box (lockable!)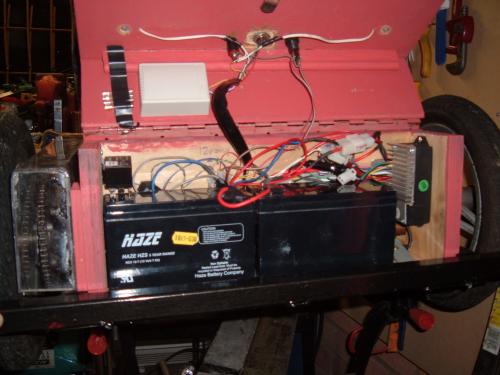 Showing inside control box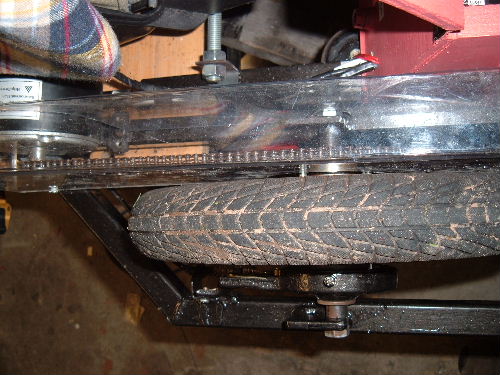 Perspex chain guard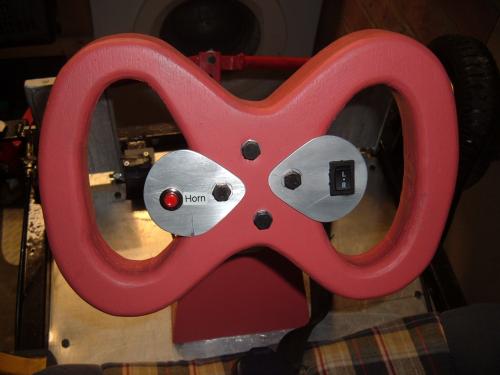 Steering wheel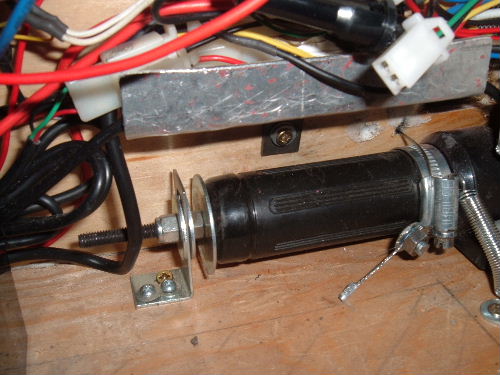 Scooter twist throttle converted to cable pull
Speed controller