After several months, our new scooter has been made.
It's really nice. It's 650W, 48v, 45km/h, 60kms per charge, and the grade ability is 15 degrees. Further more, the most unique is that we have overcome the conflicts that normally exist in other high-power scooters between the torque and speed. Batteries, controllers, and motor have formed a harmonious whole one, rather than oppose each other. It's worth mentioning that at the speed of 45km/h, the electric current is only 13-14 ampere. Speed does not affect torque, torque no longer affects speed. They are very stable, which in large measure to extend the battery life. All these must be owed to our team, especially to Mr. Charlie, who was WUXI ANGELL and USA ANGELL'S boss. Mr. Charlie is that he has the sophisticated technology and the spirit of studying hard, so that we have achieved today's success.
In addition, the look is very elegant, beautiful, the weight of the scooter is only 78KG. ......
MAX SPEED:45km/h
RANGE:30kms---60kms, according to different configurations
GRADEABILITY: 15 degrees
MOTOR: DC 650W
BATTERY: 48V12A (lead acid) 48V20A (lead acid)
48V20A (lithium) 48V25A (lithium)
TYRE: 3.0-10''
COLOR:light blue, light green, silver, golden
SIZE:66.14X25.98X43.30 inches
WEIGHT:35.38bs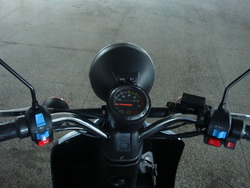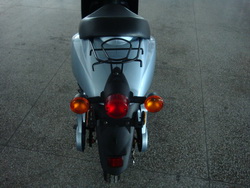 Company: Xiamen zap
Add:No.193,tongji north road, TongAn, Xiamen,China
Tel:+0086 13045975332 +0086 13003928734
Fax:+0086 592 6804763
Skype:aima-zhang
MSN:aima-zhang [at] hotmail.com
Email: xm2008aima [at] gmail.com; aima-zhang [at] hotmail.com; jauntily-go [at] hotmail.com