The eGrandPrix is a continuation of the TTXGP organization which held the race in June on the Isle of Man. They're expanding the racing series apparently to a worldwide series of electric motorcycle races. This weekend they're holding a race at the AMA Vintage Motorcycle meetup/swapmeet/race/event in Ohio. This is a pretty big deal event, lots and lots of people here with all kindsa bikes. Of course the vast majority are gas powered. Did see an electric standup scooter zip by this evening.
I'm attending the eGrandPrix and will be posting stories here and on examiner.com
Today was just about arriving and getting orientated.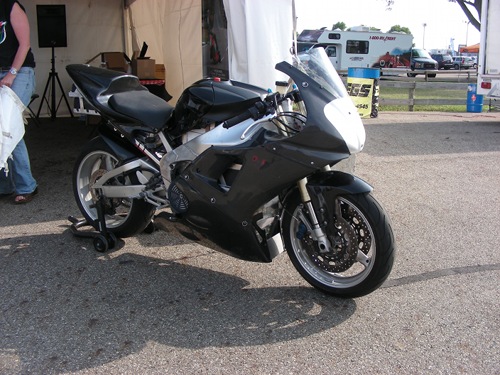 Electric Motorsport is attending (all the way from California; they did a straight-through trip took 48 hours of driving to get here; me, I flew) .. this is the bike they would have taken to the TTXGP in the Pro class, but it wasn't ready in time.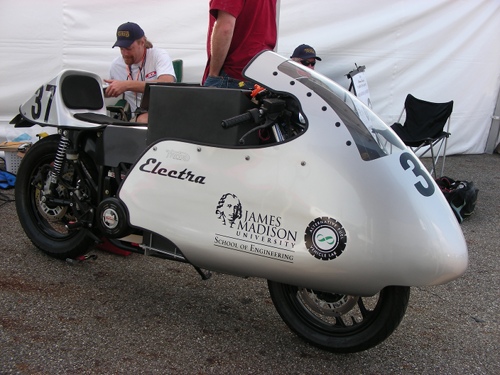 This is an old Norton Electra which has been converted to electric. The fairing is from Aerotek.
A very nice conversion by a young guy who says it was his college project. It's got a Mars Electric motor and driven with Enersys batteries. It looks very similar to the GPR-S and Todd and him went riding around for a long time comparing notes.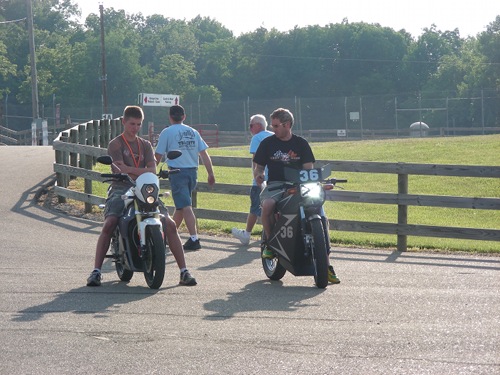 Here they are.. they were riding each others bikes.