I am looking for suggestions on my electric moped I am working on. I have never built an EV before but i have done LOTS of research and think I understand the gist of electric bikes.
I have a 1978 Jawa 207 moped which I have stripped down of all unimportant components. (motor, gas tank, ect.)
I have decided on using the 48v 16" 2-3kw in-wheel hub motor made by goldenmotor.com I know it is a Chinese company so I was wondering if anyone has a golden motor who can give a quality report.
I am looking at using 16 LiFePO4 3.2v 20ah modules and a BMS to get 51.2v. (48v in LiFePO4 language) I am also looking for another report on battery spaces products.
When it comes to the controller however I am lost. I have absolutely no idea what kind of controller I would need for a hub motor and my battery pack. If anyone could help me on that one it would be much appreciated.
here is a simple sketch of what i want my moped to look like: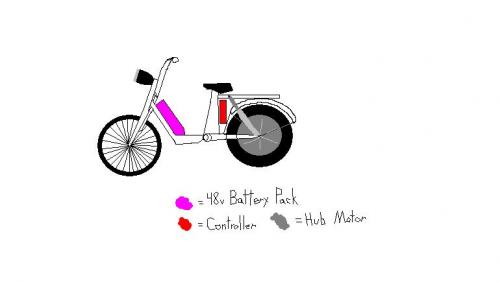 Thanks