My first impressions of the Zuumer are: Awesome.
I'd seen it a year ago when the ZuumCraft people came up to northern california to begin their ZuumQuest. http://visforvoltage.org/forum/4832-rode-zuumer It so impressed me last year to put down a payment and then not cancel out when I got laid off earlier this year.
The version they showed last year was a prototype and Tom Boyd has spent most of the last year in China working directly with the factory to improve the design. The result is awesome in every way. There is a fine attention to detail in everything I see on this scooter.
It has a three wheel design with this extremely flexible rear end that lets you play all sorts of carving games up to and including doughnuts. Plus it's extremely easy to learn - for most people it's about 8 seconds, they get on, and go.
Here's a few pictures. I have a walkaround video being uploaded to youtube right now. I'm gonna reshoot a different video with the camera mounted on the forks - very vomit inducing to watch but a blast to ride.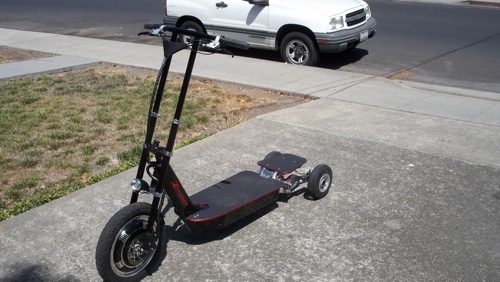 The battery compartment... one thing to note is the scroll-work on the bottom of the lid, and I noticed the part near where the stem meets the both has scroll-work that matches a groove beneath it. I suspect this would help seal the battery compartment. The controller is on the left, and on the right is an alarm thingy. The zuumer comes with a keyless fob that turns it on, and controls an alarm system. Yes, it's just like keyless fobs some people have for their cars and if someone tries to carry the scooter away the alarm will be sounding the whole way. It would also help you find your zuumer in a parking lot filled with 1000's of them. Okay, one can dream.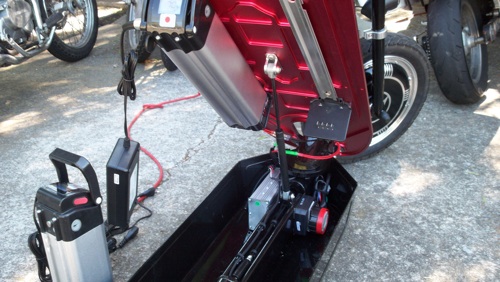 The motor.. brushless, 1000 watt, disc brakes all the way around, high power lights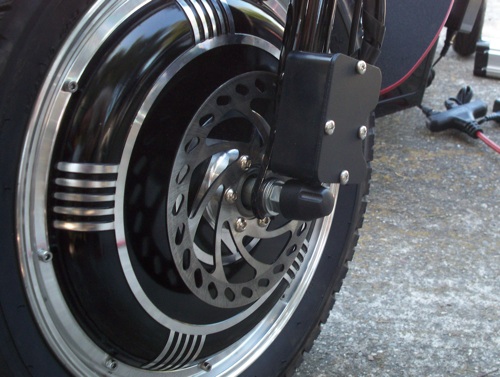 This is the business end that makes this scooter so much unlike every other standup scooter.