This is a bike I saw at Interbike 2009 last week. Dahon specializes in folding bicycles and has a whole range of them. This is a new bicycle and doesn't seem to be listed on their website or I'd've made a link to it.
It's called the "Boost" ... 20" wheels ... 19.6 kg total weight ... 250 watt motor and claimed top speed of 25 km/h. The motor is mounted next to the bottom bracket hence can take advantage of all the gearing. The gear setup is 3 front, 3 rear. It's a Lithium-polymer battery pack. The brochure doesn't say how big.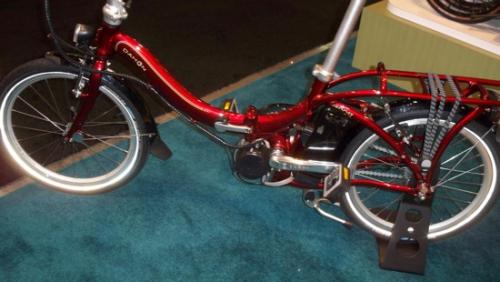 While in their booth I noted this other vehicle leaning against the wall. They explained it was the CEO's personal experiment, not a product for sale. Later I was in the test ride area talking with Tom Boyd (of ZuumCraft) and the Dahon guy rode that up and they started talking frame design.