I've been working on and off for a long time on a stretch bicycle I want to use for cargo (around town shopping etc). The bicycle frame is one I've had for a long time, bought it in 1997 to install a Zap DX electric assist kit on it. FWIW that wasn't my first electric bicycle, that happened in 1995 (also a Zap DX kit).
In any case as you'll see this time around with this frame I'm doing a radical chop and rebuild. One reason is I've been reading plans from Atomic Zombie (DIY bicycle guides - Atomic Zombie's Bicycle Builder's Bonanza) and wanted to do one. I had this frame left over, so why not. I also had this xtracycle frame extension I really want to use.
That's the same bike frame, unmodified, with the xtracycle frame attached, there was no chain to crank the pedals with, and the wilderness energy BD36 hub motor I currently have on my Electra Townie. The picture is from late March 2007. The xtracycle carries four bags of groceries, a useful benchmark ...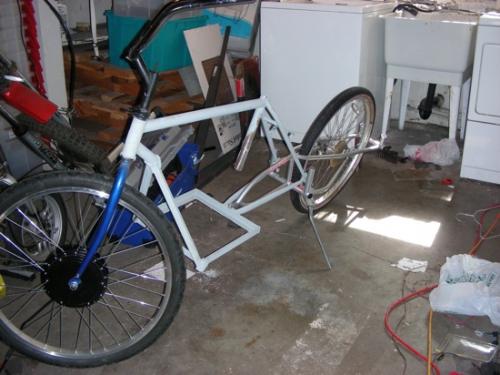 Here's an early picture in the current version. The hub motor in front this time is a 48v Crystalyte (25A controller). I chopped out the bottom bracket, welded a battery tray, and did some struts to hold the tray in place. I'd also messed up the seat tube some time back and you'll see in a minute that's lead to an odd way of mounting a seat.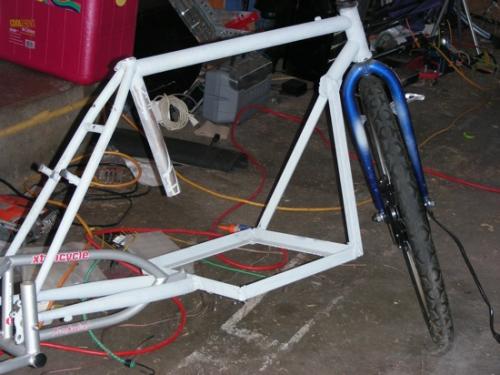 Some detail on an intermediate stage of the center area.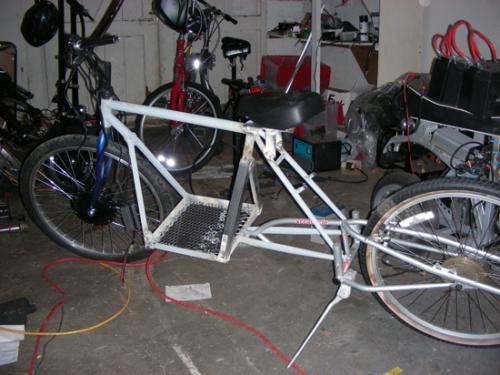 Here I've welded on a couple struts for the rear end of the battery tray going up to the seat tube.
Here's detail on the rear struts. It also shows how the seat is going to be mounted. I did this today and haven't cleaned up the welds yet. It's just a couple brackets with a place to mount the seat.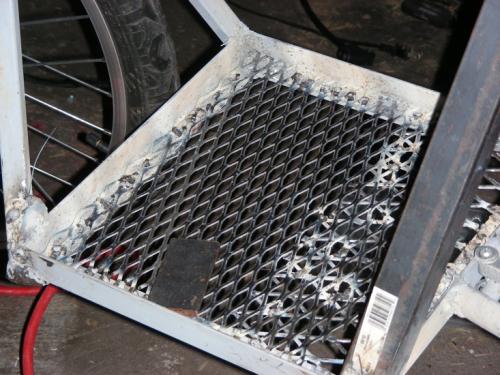 The battery tray has a grill in the bottom to hold the batteries.