Reposted from: http://www.examiner.com/examiner/x-14333-Green-Transportation-Examiner~y2010m2d9-In-electric-motorcycle-racing-drama-the-TTXGP-c...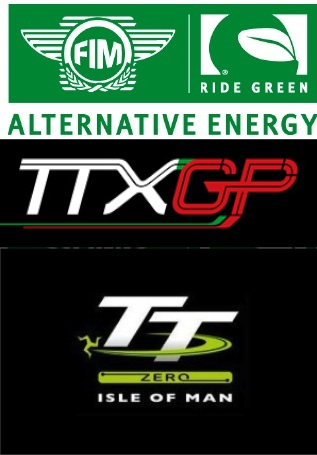 When an empire strikes back it's likely with the expectation that it's swatting a fly.  Sometimes the underdog is able to win even though the empire looks like an 8000 pound gorilla that can smash anything in its path.  These tortured allusions to movies and wildlife don't do justice to the strange battle brewing in the nascent sport of electric motorcycle racing.  As noted in earlier reporting the old simple story (TTXGP and FIM collaborating to create electric motorcycle racing) has morphed first into two and now three competing electric motorcycle race series.  TTXGP, the newcomer, has developed a series of electric motorcycle races.  FIM is the international authority overseeing the sport of motorcycle racing.  The unfolding events include an announcement on Feb 8 from the Isle of Man Government seeking to clarify their position over why they replaced the TTXGP organization with their own race, the TT Zero.
The statement from The Isle of Man government is said to be in response to "the speculation and unsubstantiated claims" about the decision to run the TT Zero rather than TTXGP race during the yearly TT Week events.  They describe negotiations which began in July 2009, shortly after TTXGP 2009 was run during TT 2009, and continued into December of 2009.  The key issue in their mind appears to be the dates of the EMXGP race (June 4,5,6), scheduled to occur during TT Week (June 5-11).  They claim this created a conflict that "effectively prevented TTXGP from participating in the allotted schedule in TT 2010." In a possible deviation from reality they claim that, on Dec 21, 2009, TTXGP Ltd gave notice of an inability to reschedule the EMXGP race and that TTXGP would be unable to participate in TT 2010.  If true, the steps taken by the TT organization (forming the TT Zero race) would be a reasonable response.
A statement from Azhar Hussain states "I can confirm the question of Paris or issues of financial packages were not factors in the decision making and am disappointed that it is being suggested so.  We remain surprised about the decision as we did everything possible to make this happen."  In a mid January meeting with this writer, Azhar Hussain did say there were negotiation difficulties with the TT organization but did not allude to any change of plan regarding TTXGP participation in TT 2010.  Further to this day the TTXGP FAQ (on their website) discusses how to participate in the Isle of Man 2010 TTXGP race.  All indications are that the TTXGP team expected to hold a race on the Isle of Man during TT week.  That is, until IOMTT announced the TT Zero race.
In what may be the more important contest the TTXGP series is gathering more racing teams than either FIM's e-Power or the TT Zero races.  Currently only one team, Epo-Bike, has announced an intention to race with FIM's e-Power.  Currently zero teams have announced an intention to race in TT Zero, but to be fair they only posted the entry form a week ago.  On the other hand a couple handfuls of teams have announced they will race with TTXGP, and some will race exclusively with TTXGP.  The most recent of these is Brunel University's X-Team who raced in TTXGP 2009.   
Further Azhar Hussain and the TTXGP organization has received a lot of support.  This writer polled many of the teams concerning which race series they would participate in, and most replied stating support and respect for Azhar Hussain and the TTXGP organization.  Typical is this statement from CRP Racing, "Azhar Hussain is the only person in the world who has the experience and skills to organize and promote a worldwide electric championship."
Before Azhar Hussain launched the TTXGP in 2008 the FIM's alternative fuel program was studying the use of biofuels in motorcycle racing.  Biofuels, in the form of alcohol, are already widely used in racing so it's puzzling what FIM would have been studying.  Maybe they were looking for a way to greenwash themselves with a nice palatable shade of green.  The success of TTXGP 2009 is thought to have alarmed FIM into taking these actions.  FIM exists to provide structure to motorcycle racing in the form of rules and technical guidance but it also dominates the sport of motorcycle racing.  History has thousands of examples where a dominant organization begins to see any newcomer as a threat to their domination.  Hence we should not be surprised at a statement found by Ivar Kvadsheim in FIM's report on a "Green Enduro" event FIM held just before the Copenhagen climate summit.  "With a new area of motorcycling and motorcycle sports in progress, we see initiatives for green riding where no «ownership» has yet been established. If FIM should let this happen without offering partnership and support, we could risk that the future of motorcycling no longer would be associated with FIM."  This is an astonishingly honest almost direct admission that they fear if TTXGP becomes too popular that FIM could be destroyed.  As Ivar says in his blog post, "If FIM had done what this report suggests and offered support and partnership to other initiatives, they could be both important AND useful. Sadly the reality is they are important, greedy and stupid. Result: The tiny resources available for e-bike racing are split in three."
For more info: 
TTXGP booted from Isle of Man TT races, electric motorcycle racing split worsens?
Electric motorcycle racing soap opera between TTXGP and FIM
Is the FIM attempting to "steal" electric motorcycle racing from TTXGP?
FIM launching the E-Power electric motorcycle racing series, without TTXGP
TTXGP UK Championship 2010 agreement, and other TTXGP news
Announcements from SWIGZ.COM, CRP Racing, Zero Motorcycles demonstrate support for TTXGP
666 Racing announced they will race with the TTXGP organization during 2010
Statement From The Isle of Man Government Regarding TT Zero and TTXGP Ltd
Electric racing at war: conflicting statements from Isle of Man and TTXGP
First FIM e-Power entry confirmed
Epo-Bike First Confirmed FIM ePower Entry
Brunel X-Team Returns In 2010 With The BX-10
CRP racing backs TTXGP founder
eCRP 1.0 Electric Motorcycle CRP Technology
FIM: We can't risk "green" riding without FIM ownership
Unveiling the eCRP 1.0 - exclusive to TTXGP 2010