I'm nearly finished with building a new electric bicycle and wanted to share about it. The only thing left is a proper trunk for the battery pack, and some wiring. The bicycle is a Giant Suede to which I've attached an Xtracycle frame extension. The motor is a Crystalyte 5xxx (IIRC Electric Rider calls this model the 'Sparrow'). The battery pack is a 48volt 20ah using Headway cells.
Those of y'all with good memories may remember an earlier posting about a hacked up bicycle using some of these components. I decided to go with this other bicycle because pedaling is very important to me. (Stretch-e-bicycle phase 1) I still have that other frame in the garage and may build something out of it still.
The battery pack.. The sticking point at the moment is a case to put this in because obviously it can't be on the bike unprotected as it is. Last night I ordered a big Topeak MTX case (their biggest model) which should be big enough for the pack and charger. The pack weighs 27 lbs.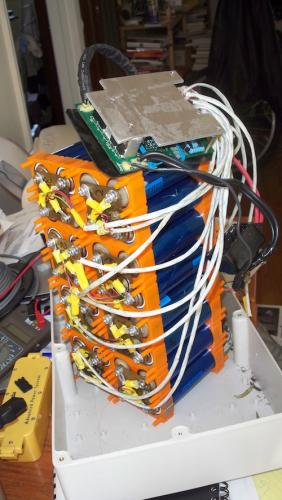 The bicycle. The Xtracycle frame has been hanging around unused in my garage for awhile. It can carry 4 bags of groceries etc. The Xtracycle company recently released a new snapdeck made of a very hard/sturdy plastic (the original one is wood) which is meant to be a platform you can bolt things on.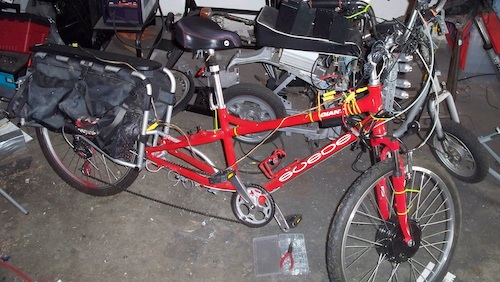 My special style of headlights.. I've done similar headlight setups on two other bicycles. The individual units come from the auto parts store, they're LED based and are sold as accent lights for cars. It's white LED's and they do a great illumination job.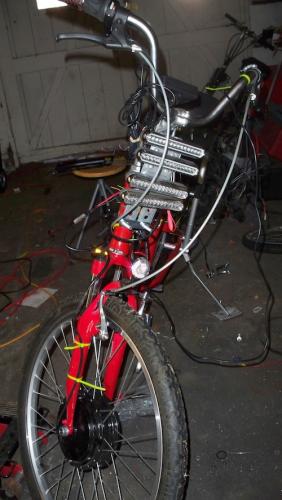 Rear view of the bike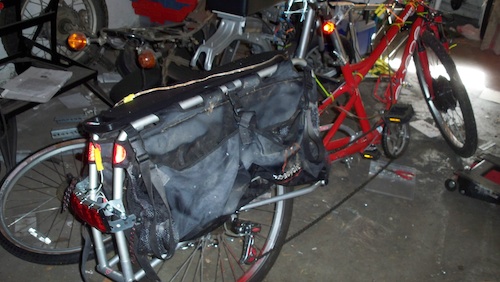 Another rear view - showing the tail-lights built using red LED units again bought at the auto parts store and sold as accent lights for cars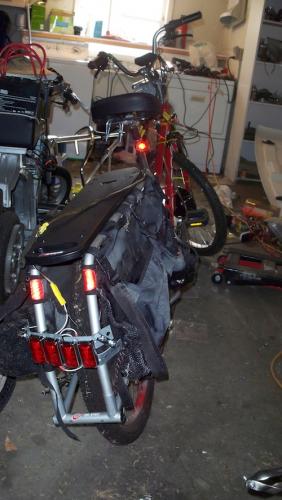 The controller is zip-tied to the frame and the wiring still needs to be cleaned up.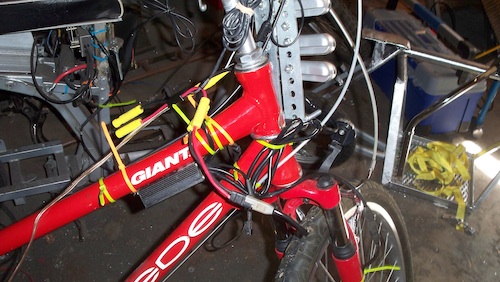 The dashboard is a Cycle Analyst