Would you like to have an electric car conversion workshop in your area? Electro Automotive has been presenting workshops in the San Francisco Bay Area for 20 years. Now the same workshops can come to your area. What we need to make it happen is a local liaison to:
* Locate an appropriate venue for the workshop
* Locate sources of large equipment, tools, and large components for display
* Supply an errand runner/assistant during the workshop
* Get the workshop listed on local community events calendars
* Get coverage by local media
* Receive shipments of books, display materials, parts, tools, etc.
* Provide any needed direction signs to location
* Handle check-in at the workshop
In exchange for this local assistance, the liaison will get a percentage of the registration fees. If members of an EV club wanted to do the legwork as volunteers, the money could go to the club as a fundraiser. We would also promote the event on our web site, as well as issuing press releases and posting on various Internet sites.
We do need minimum registration numbers to make the workshop economically viable for us. If you are considering hosting one in your area, we would recommend that you survey your club membership to see how many would be likely to participate. There will always be many non-club registrations as well, and some people will travel in from out of town.
There are two types of workshops we can present.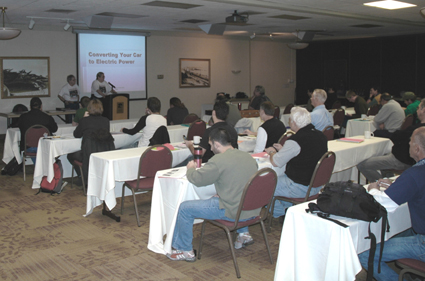 One Day Seminar
This is an all day lecture that covers the complete conversion process, including choosing a suitable chassis, stripping it, choosing an appropriate drive system, designing, fabricating, and installing battery racks/boxes, motor mounts, and other component mounts, wiring, suspension upgrades, troubleshooting, driving, charging, and maintenance. Registration is $100 per person for the day. The book "Convert It" will be available for sale at a discount to people attending, as well as handouts of the presentation.
For this, we need:
* Minimum 75 registrations, maximum 300
* Minimum 8-12 weeks lead time to secure facility and promote event
* Lecture hall or suitable space. Size would depend on anticipated registrations. It could be a hall that the local EV club already has access to for their meetings. If it's a conference room at a hotel, it might be possible to start small and upgrade in size if more registrations come in.
* Lectern, microphone, projector screen (we can bring projector), power strip for projector, chairs (preferably with writing surface), several tables for check-in and display items
* Display components or vehicles - if local EV club members have motors, chargers, controllers they could bring for display, or whole vehicles.

6-Day Hands-On Workshop
In this workshop, we take one or two cars from stripped donor chassis to running conversion in six days. Mornings are spent in a classroom and afternoons are spent in the shop working on the car(s). This is a much larger project, with more requirements. Registration is $1,500 per person for the six days. The book "Convert It" and the "VoltsRabbit Installation Instructions" are included in the registration, as well as lecture handouts.
For this, we need:
* Minimum 5 registrations, maximum 18 (not counting sponsors)
* Minimum 12-16 weeks lead time AFTER donor car(s) secured. We would not want to set the actual workshop date until the sponsor(s) were committed, the donor car(s) were in possession, and the shop space confirmed.
* Classroom space with lectern, projector screen & stand, chairs & tables or desks. This is best if it can be a free/donated space.
* Shop space. For a one car workshop, 24' x 24' is a minimum. For a two car workshop, 24' x 36' minimum. This is also best to be free or donated, as rental for shop space can be cost prohibitive. It could be a large empty space with garage doors, concrete floors, good lighting and plenty of electrical outlets as a minimum. Compressed air would be desirable. Several heavy duty workbenches will be needed. A lift is nice, but not necessary. An actual auto shop space would be fantastic. This might be at a school during break between semesters/quarters.
* Tools & equipment. We will supply a list of large tools needed, such as engine hoist, floor jacks and jackstands, shop vac, etc. These can probably be borrowed from local club members. We will bring two sets of hand tools, but if students can bring their own, or EV club members can provide some extras, that would be a big help.
* Donor car & kit sponsor. For each 9 students, we need one sponsor to provide the donor chassis and purchase the conversion kit and batteries. The donor MUST be an '81-'84 VW Rabbit or an '85-'93 VW Cabriolet. NO EXCEPTIONS. The only way we can do this workshop in six days is to have a completely pre-fabbed kit, so no design or fabrication is necessary. The sponsors will receive free registration for one person in the workshop, plus free labor to assemble their conversion. We would work with the sponsor to make sure the vehicle is a good candidate for conversion, and we would want to see extensive photos of it both inside and out before approval.
* Prep work. The donor car(s) must be brought up to spec on brakes & wheel bearings, transmission, 12V electrical system, new suspension parts from kit installed, internal combustion systems stripped out, and engine bay and transmission steamcleaned prior to the workshop. This can be done by the sponsor, EV club members, or an auto shop. We will provide details on the prep work needed.
If either of these options interests you, please contact Shari Prange at shari [at] electroauto.com and we can discuss details.