Hi, I would like to know if there are any good or bad opinions or experiences with Merida pedal assist bicycles. There is one on sale at Home Hardware and as part of my research I'm posting an inquiry here. This is a scan of the advertisement in the flyer: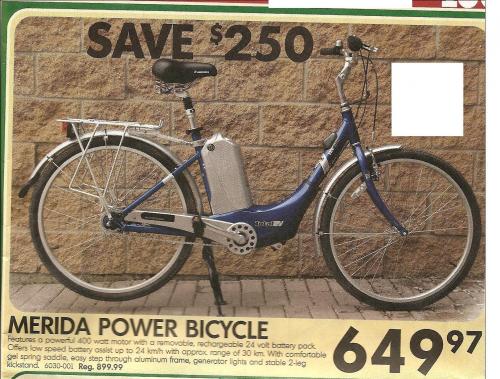 The written details on Home Hardware's webpage for it is "Item # 6030-001
Model # 26S-500-L/A
Overview
Merida Electric Bicycle
- Aluminum frame - lighter than steel, rust proof
- SR Suntour suspension fork - added comfort
and control
- Alex alloy rims with stainless steel spokes - rust
proof, sturdy, light
- Aluminum adjustable bar with stem - maximum
comfort
- Tektro direct pull brake, F shimano roller brake -
quality brakes from top brands
- Shimano nexus 4 speed hub no exposed gears,
durable, simple
- Kalloy suspension seatpost - added shock
absorption
- Comfort spring saddle - smoothes out the bumps
- Generator lights F and R - no batteries required
- 2-leg kickstand - sturdy, stable
- Rear rack/fenders - carry cargo, stay clean
- Basket - great for errands
- DC24V 400 watt motor - 1/2 HP and peak output
for easy climing
- Top assist speed - 15 mph
- Max load - 240 lbs
- Approximate range 19 miles
- Approximate charge time 4 hours
- Blue"
Is this a good electric bike or is it only good for the money? My experience is limited to a second hand Kaishan.