I recently picked up an EVT4000 with the 4x 50ah SLA batteries.
I decided to try a little experiment.
I pulled the small 15Ah 48V LiFePO4 from my Voy electric (converted to 1kW motor) bike and put it in the EVT4000 (1.5kW motor).
I know full well the little LIFePO4 battery cannot deliver very high currents, but I thought I would try. My logic is that if it worked, even a little, then I would be encouraged to buy a 40Ah version of the same battery for ~$1.5k.
To my great suprise, it worked great for ~15 blocks until the little guy started to get lower on voltage and cut out.
I tired both Economy mode, and Power mode.
Spedo said ~32mph. With the SLA batteries it was maybe a little less.
The SLA batteries are 15kg each x4 = 60kg
The 15Ah LiFePO4 is only 10kg
If I bought the 40Ah version it would still only be 25kg which would lighten the bike up by 35kg (78 lbs)
You can really feel how much mor nimble the bike is with the wight removed.
I dont have enough current in the undersized batt to do hill climbing experiments, but with less weight, it should be much better.
Also, the LifePO4 has a higher voltage when fully charged ~55V, so more power.
For those that want to over-voltage their bike, its easy to do when changing the whole batt system.
Also, in the long run, it should be cheaper. This batt can be cycled many more times than the SLA.
I left the old Anderson Power Connectors in place, and just connected to the two that feed the motor. No wire cutting. Totally reversable.
Pictures attached for your enjoyment.


Before starting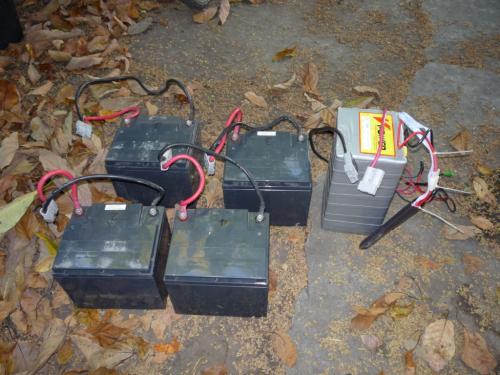 4 SLA batts out, and my one little 15Ah batt with a couple of Anderson Power connectors attached.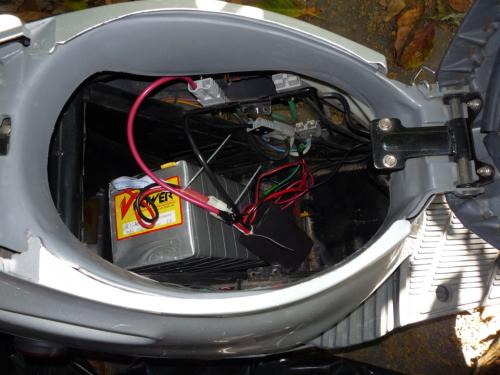 Batt is in! 30min of work, and look at all the trunk space I have. I could have laid it flat if I wanted.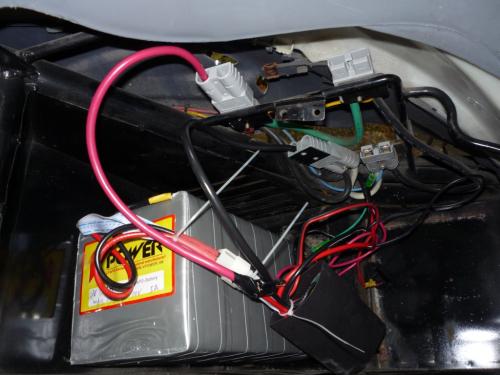 Close up showing what I did with the wiring.
-Mark