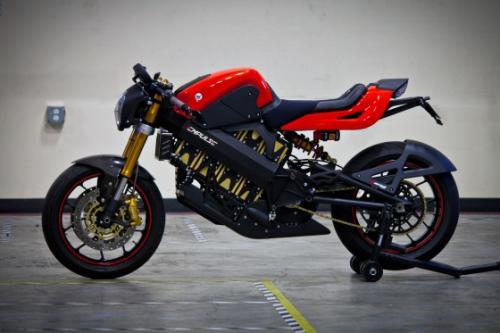 BrammoCraig has been dropping hints on Twitter for a couple months about a big upcoming announcement. They made the announcement today.
it's a new motorcycle .. the styling is the lean-over-the-handlebars street fighter style, and has no fairings (naked). It has a 100+ miles/hr top speed and comes in three range specs .. 60, 80 and 100 miles
The price for the 100 mile model is $14,000 (before incentives) and supposedly compares favorably in price to bikes like Ducati Streetfighter. Compare to the oft-delayed Misson One and its eyepopping price tag and this bike looks darned affordable. Mission may be in trouble as they get undercut before they can deliver their bike to the market.
40hp liquid-cooled AC synchronous motor -- we're seeing with TTXGP races that cooling the motor is critical, and that liquid cooling the motor innards is a great idea. Dunno enough yet exactly what they mean by "liquid cooling".
First Look: Brammo Empulse
http://www.cycleworld.com/motorcycle_news/first_looks_articles/archive/first_look_brammo_empulse
Brammo Empulse – This Changes Everything
http://www.asphaltandrubber.com/bikes/brammo-empulse-this-changes-everything/
Brammo Empulse Electric Motorcycle -100mph/100mile range
http://www.youtube.com/watch?v=hDF2EMjir2k
2011 Brammo Empulse Preview
http://www.motorcycle.com/manufacturer/2011-brammo-empulse-preview-89773.html
New Brammo Electric Motorcycle Is Fast Enough For Trouble
http://www.wired.com/autopia/2010/07/new-electric-motorcycle-is-fast-enough-for-trouble/
Brammo announces the Empulse, a 100+ mph naked electric streetfighter with 100-mile range
http://green.autoblog.com/2010/07/15/brammo-announces-the-empulse-a-100-mph-naked-streetfighter-wit/
Brammo Empulse Electric Motorcycle
http://www.motorcycle-usa.com/750/7468/Motorcycle-Article/Brammo-Empulse-Electric-Motorcycle.aspx