Unsurprisingly Lightning Motors has the pole position, again. Anyway, about the day..
It's flippin hot & humid - this is partly why I'm living in California now, I used to live in Kentucky and it's the same nearly unbearable summer weather. Interestingly they're choosing the TTXGP schedule partly to accommodate the heat.
One of the teams brought a kiddie pool which they're keeping in the pit area. After the qualifying round this afternoon, walking the pits I come across them sitting in the kiddie pool going over the results sheet.
Unlike previous races it's very relaxed in the pit area. Previous races there was a mad scramble to get everything right, suspension, controller settings, tires, etc. There's none of that this time.
Team Electra has the largest contingent of people in their pit. But, this race is local to them. Brian Richardson, the team owner, lives in Bluegrass VA which he says is the least populated county east of the Mississippi. Apparently the place is so remote that Google Maps doesn't even know about the place. He's a part time small town lawyer, part time sheep farmer, and for his birthday he dreamed up this idea to build an electric motorcycle. No background in any electric anything but of course as a farmer he's got lots of experience fabricating things. In any case one thing he proves is that ANY of us can take part and run a team in the TTXGP. Well, this year, in a couple years this may become a more professionally run race series.
Consistently Team Electra has been running real close with the Agni Motors bike, which you see below in the qualifying round results.
The Electric Race Bikes team has switched to a Baby Zilla controller. They'd been using a Kelly controller but at the Mosport race theirs had a catastrophic failure and while Kelly went above and beyond to deliver a replacement controller, which they raced in Mosport, they've since found a Zilla to use. They ran with the Zilla at Laguna Seca 2 weeks ago, and still have it here.
The qualifying race went pretty well - all the bikes looked good on the track etc. The track itself is very technical - 20+ turns, lots of them blind, and going up and down over the rolling hills of this area.
1 #80 Michael Barnes, Lightning Motors, 1:42.811, 78.785 m/hr, 1:45.170
2 #22 Zoe Rem, Agni Motors, 1:53.303, 71.490 m/hr, 1:53.640
3 #37 Thad Wolff, Team Electra, 1:53.750, 71.209 m/hr, 1:54.910
4 #15 Mike Hannas, Electric Race Bikes, 1:56.314, 69.639 m/hr, 1:56.727
5 #23 Jennifer Bromme, Werkstatt Racing, 2:03.092, 65.804 m/hr, 2:03.794
6 #16 Brian Evans, Squarewave Racing, 2:18.605, 58.439 m/hr, 2:20.304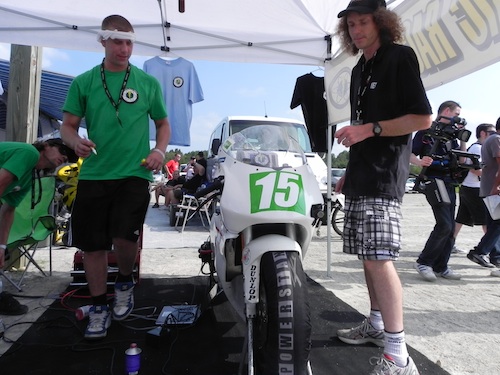 Undergoing inspection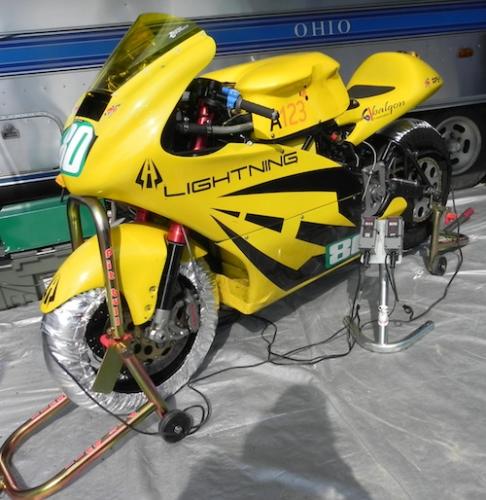 New graphics - the new color scheme was installed at the Laguna Seca race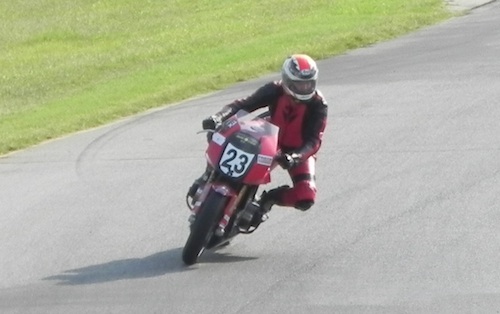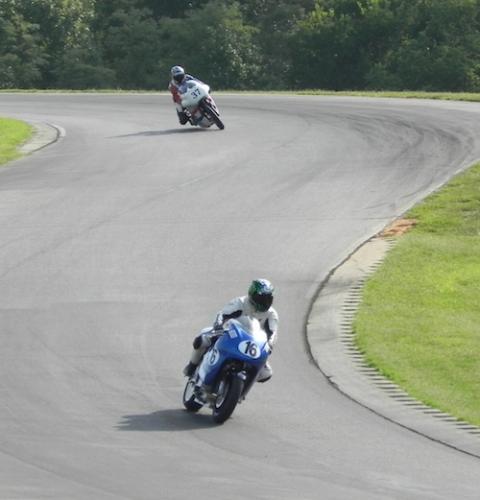 This turn I shot at today - didn't see the other side of the turn, but it looks like the riders are coming up the back side of a hill, along the top, and all of a sudden it drops down this long sloping hill. Rather than go straight down the hill, the track twists and turns all the way down.