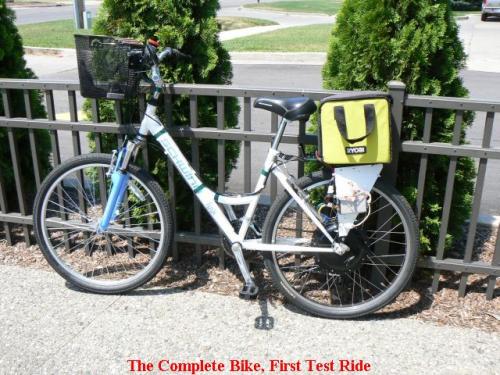 This month, I finished building my first "from scratch" electric bike project. I was excited when I came across the website for Cycle 9. They sell a Nine Continent hub motor, laced into a 26 inch rear rim for $247, including shipping. Their website claims this motor is "More efficient than Crystaltye, reaching speeds of 30mph without sucking down your battery." I have seen hub motors advertised by Golden Motor for as little as $85.00, but counting shipping cost, finding and buying a rim and the correct size 12 gage spokes, plus the labor to have someone lace the rim to the motor, the total cost would be closer to $300.00. Cycle 9 also sells this motor in a kit, complete with controller, but I already had a Kelly KBS72051 Programmable Motor Controller.
For My bike, I had several goals in mind.
* Flat road speeds of about 30 MPH
* Ability to climb a 10% grade
* 20 mile range
* Regenerative braking on steep hills
Along with the motor, I ordered a thumb throttle, a six speed freewheel, and a torque arm. I was impressed with how Cycle 9 handled me as a new customer. My assembled hub motor and rim arrived in 10 days, along with a small instruction manual. Of all the electric bike and scooter information I have received with products from China, this was the first instruction manual that was written in understandable English, and was concise and complete It was obviously written by the staff of Cycle 9. My compliments to them for making sure the buyer has an understandable set of instructions with their product.
I couldn't mount the hub motor in my old Schwinn Sierra. I would have had to do some frame bending to get it to center in the rear triangle. I went with my alternate plan and bought a cheap steel frame bike from Wal Mart. I went with a Ladies Schwinn Link at $159.00. I also purchased a bike speedometer, and a handlebar mounted basket.
I fully documented my work on my own website at:
http://www.bergerweb.net/electricbike
Summarizing, The Kelly controller and the Nine Continent Hub Motor work together well, and with four 12V, 8AH batteries, I get a range of about 18 miles at an average speed of 15 MPH. Top speed is around 27 MPH, and yes, I can easily climb a 10% grade.