Somehow I neglected to post something here about last weeks TTXGP race at VIR. It was a busy week. Anyway, my detailed posting was elsewhere.. Lightning strikes at VIR to win the TTXGP North America 2010 electric motorcycle racing championship
Also see:
TTXGP North American Championship 2010 wraps with a Lightning finish
http://www.egrandprix.com/news.php?id=128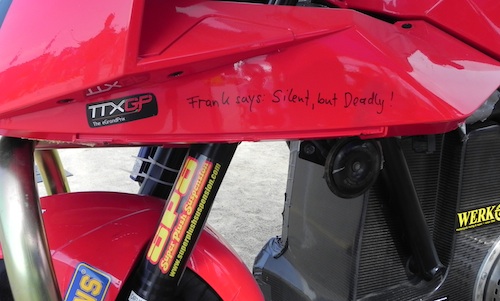 A little message on Jennifer Bromme's bike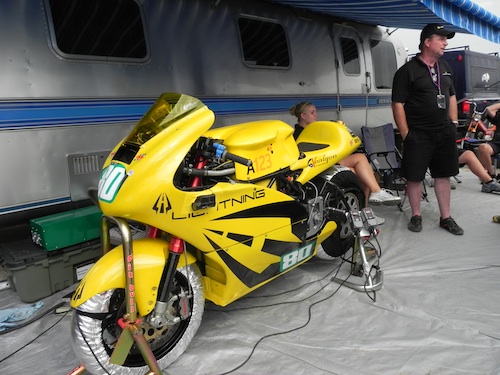 Richard Hatfield & his bike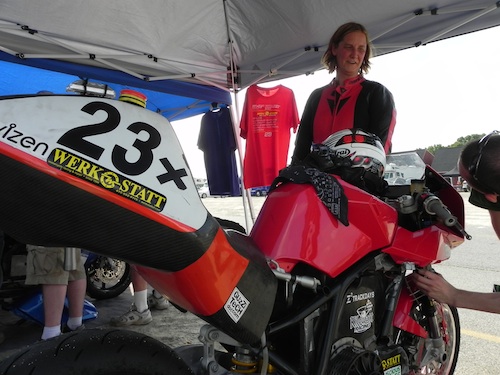 Jennifer Bromme & bike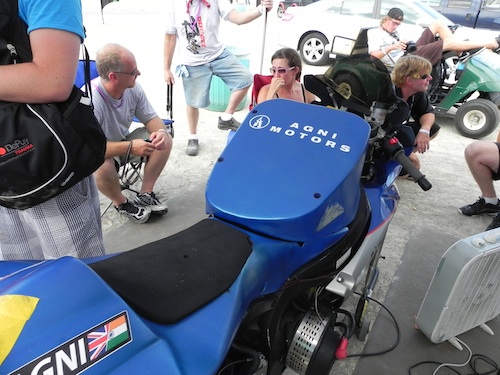 Zoe Rem & the Team Agni bike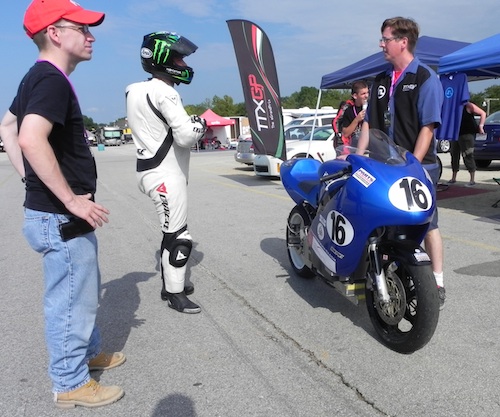 Square Wave Racing - getting ready to go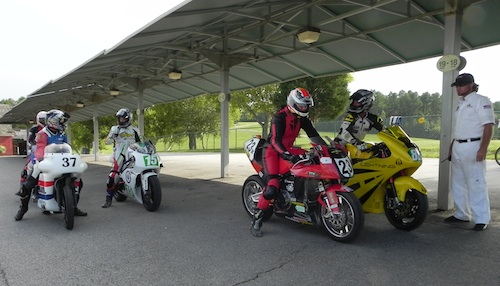 Lining up to go onto the track
The VIR start/stop line isn't at this spot where it's in front of a crowd, for some reason.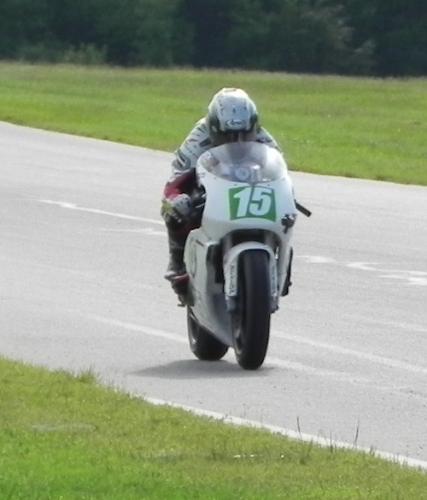 Electric Race Bikes - Mike Hannas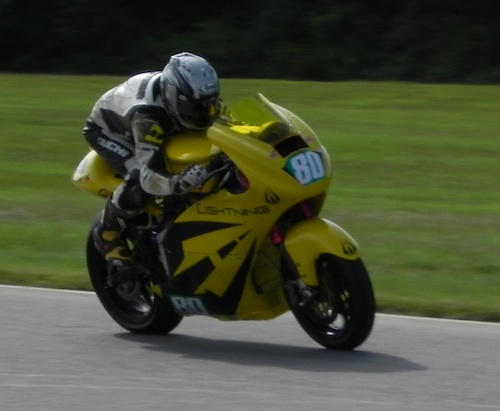 Lightning Motors - Michael Barnes - this is one of the few passes I caught of this bike, because it moves so fast (so much faster than the others) it's gone before you can react and take a picture. Which of course means I need to do better preparation to take the shot, eh?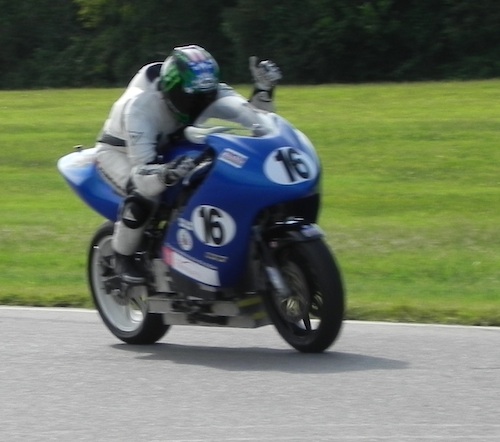 Brian Evans - Square Wave Racing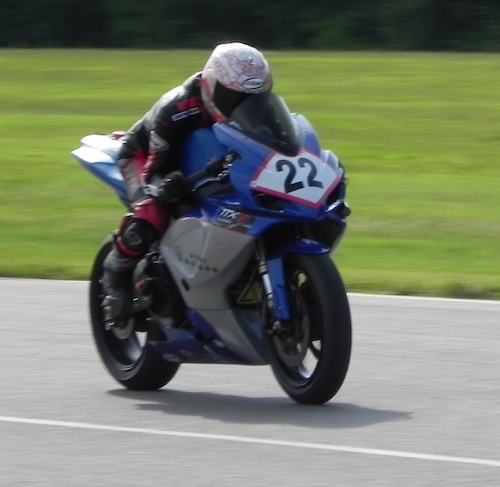 Zoe Rem - Team Agni - This is the bike which won the 2009 Isle of Man
Jennifer Bromme - Werkstatt Racing - Riding a Mavizen bike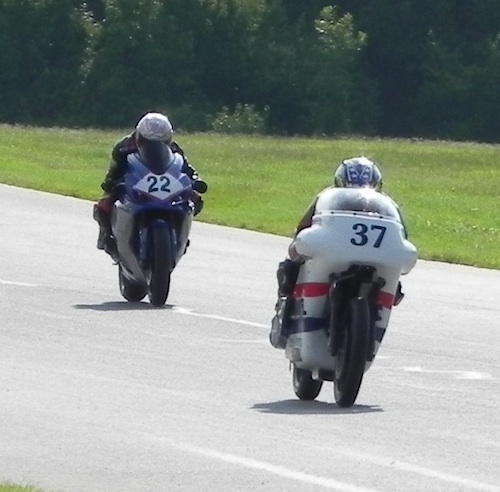 There was a serious battle going on between 2nd and 3rd places. The Lightning Motors bike is so much faster, the real competition is farther back in the field. Anyway for most of the times these two passed the start/stop line, Zoe (Team Agni) was ahead but one time Thad (Team Electra) was ahead. A cheer went through the watchers on that. We learned after the race they'd been duking it out the whole time.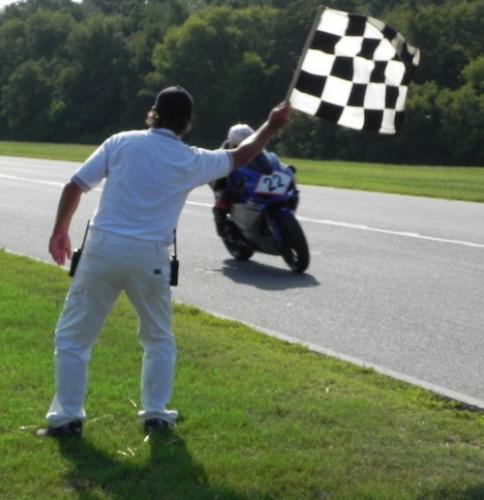 Zoe getting the flag - when Michael Barnes crossed the finish line he did this thumbs up gesture to the watchers, but I wasn't able to catch it, and then he went on to take a parade lap. This was the first picture I caught of anybody crossing the line.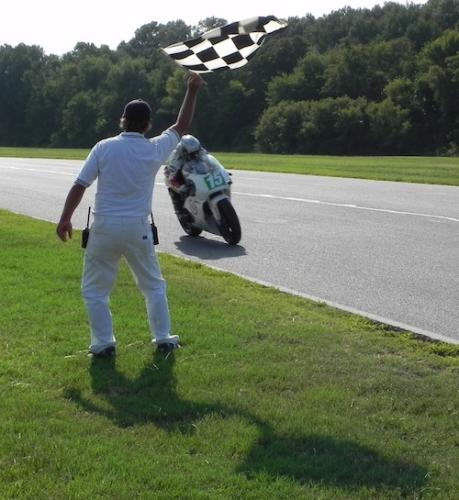 Mike Hannas getting the flag
Michael Barnes conferring with Richard Hatfield at the end of the race. I heard him say "something is seriously bad" and saw smoke coming from near the motor. We quickly learned the rear wheel wouldn't roll, and went on with the winners circle ceremony. Afterward they learned that the bearings in the drive train had seized - fortunately during lap 10 of a 9 lap race.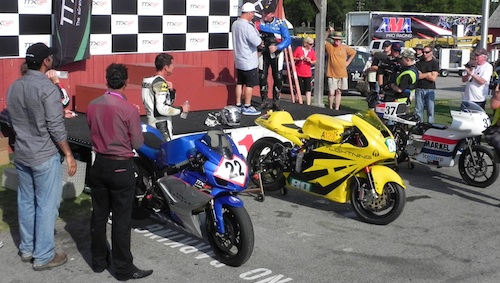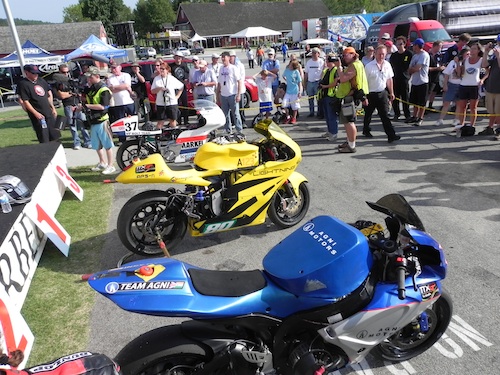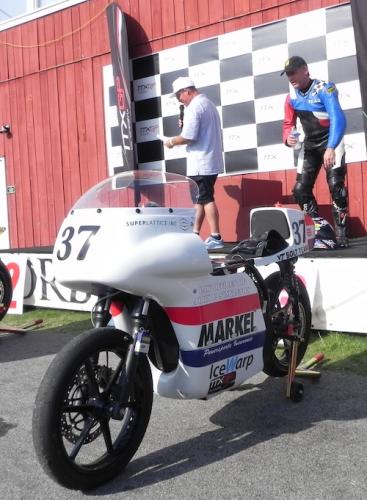 Thad Wolff - Team Electra - #3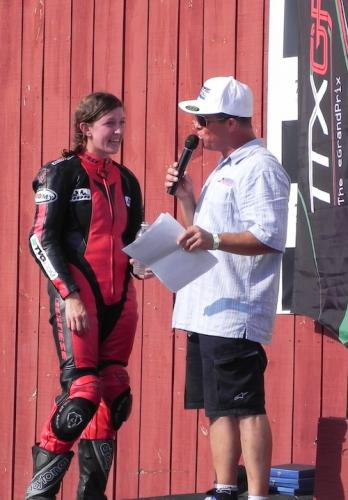 Zoe Rem - Team Agni - #2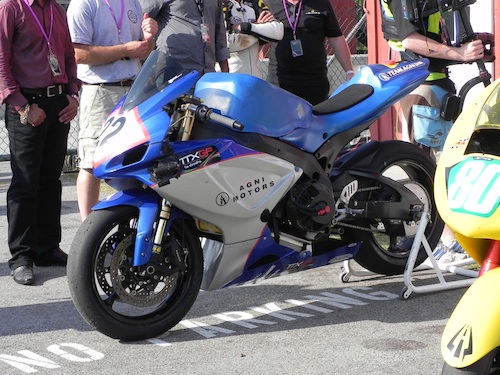 The bike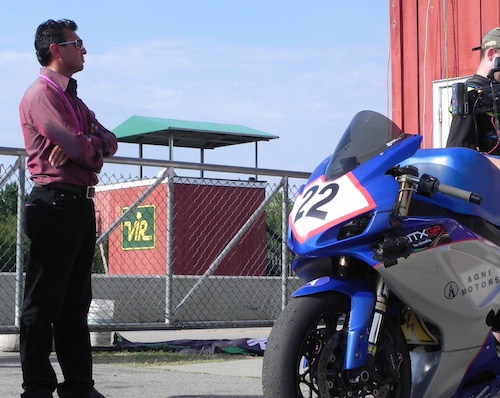 Arvind Rabadia - CEO of Agni Motors - long time collaborator with Cedric Lynch - owner of Team Agni - I had several wonderful long conversations with him.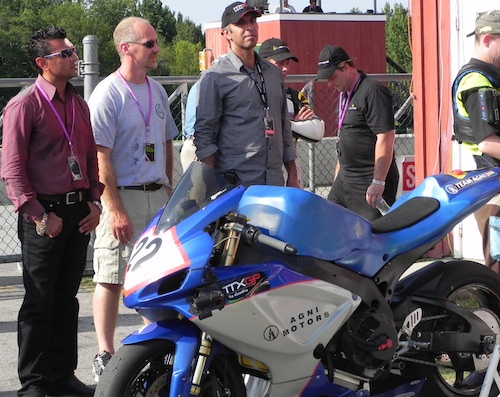 Team Agni along with Azhar Hussain
'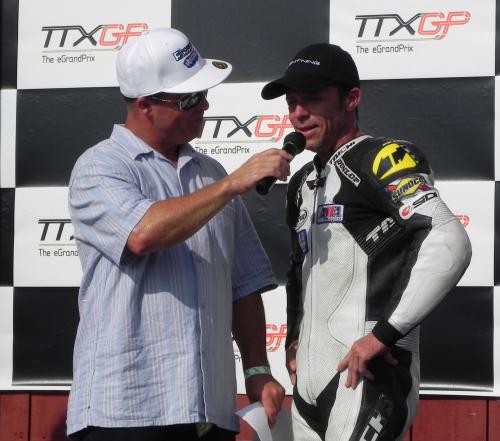 Michael Barnes - Lightning Motors #1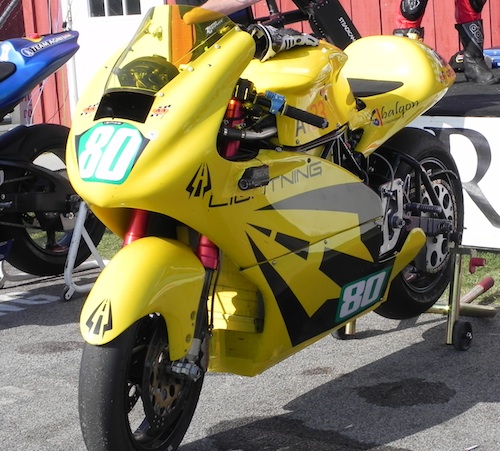 The bike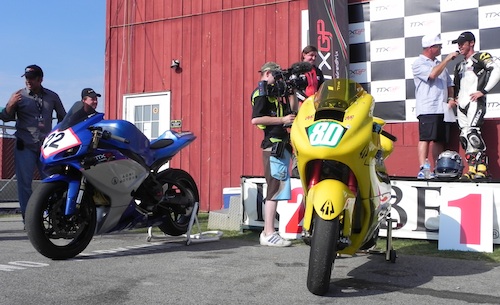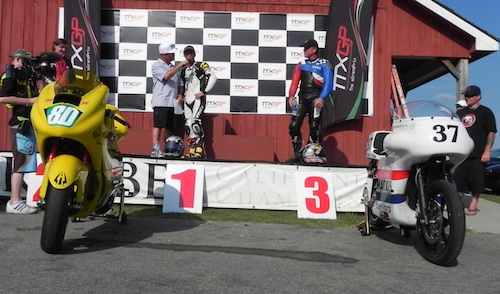 Michael got two plates because this was the season finale, and he won most points as rider for the season AND won this particular race.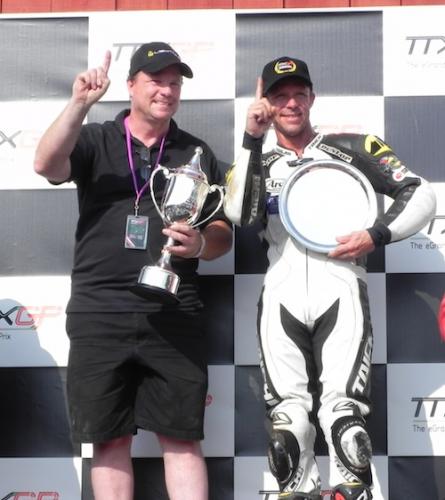 Richard Hatfield - as the team owner won the trophy as the winning team.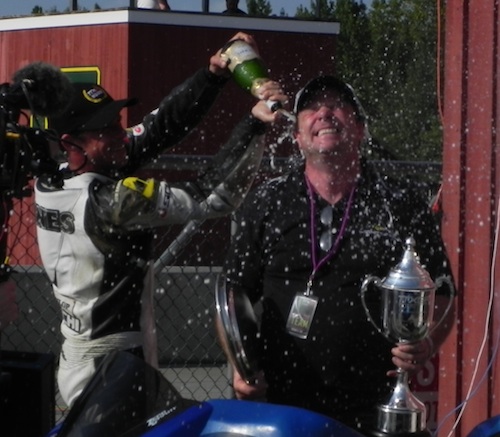 PARTY!!!!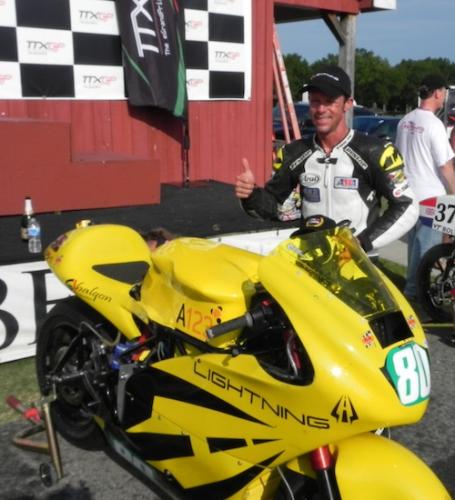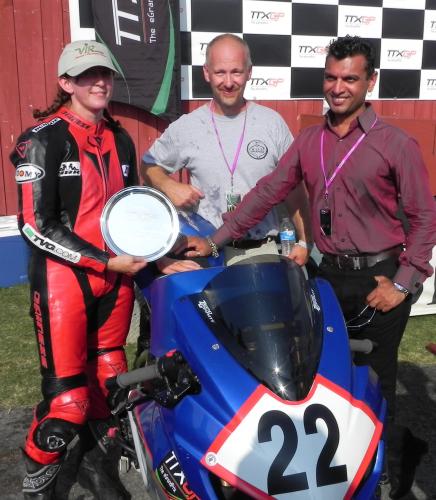 The Lightning Motors team