Update on my EV Karmann Ghia following the last update some time ago: Some thoughts on redesigning the Karmann Ghia
The current status is: a) motor has been swapped, b) lead acid boat anchor batteries removed, c) 45x 100ah thundersky cells sitting in my garage, d) two controllers to choose between, e) old motor sitting on garage floor and it's thinking about becoming the power plant in a motorcycle, but one project at a time please
Last week I took the KG over to a local car shop that's also a machine shop that also does "race car fabrication" and had them do the motor swap. Turns out that Otmar (of Zilla fame) had worked for this shop 20+ years ago, back when he was first getting started doing EV conversions, and that this shop had done maybe 20 conversions of VW bugs. Unfortunately that was 20+ years ago. They're definitely way into engines and gas driven race cars. Anyway it was a nice bit of coincidence to find them seemingly at random.
The steps coming up are:-
Battery box(es) and location and hardware
Choosing and Wiring a BMS
Choosing a charger and hooking that up
Replacing the contactor/solenoid with a beefier model
Replacing the DC/DC with one which handles 144 volts
Installing new controller, removing old one
Rewiring the voltmeter
Choosing an status information geek display
I'm working with Richard Hatfield on this. For example he's got relationship with a shop in San Carlos that make excellent battery boxes of custom size lined with the sort of nonconductive fiberglass used for circuit boards.
He's got a BMS that could be really good but unfortunately may not work with a split pack (because I'm gonna have a pack up front, and a pack in the back). We're gonna think on that and choose between the eLithion or his BMS. FWIW the eLithion BMS is what he uses on his race bike and it's highly regarded.
The charger choice is between Elcon and Manzanita Micro. The Elcon charger is less expensive but it's not very flexible having only a fixed voltage setting and can handle only a single chemistry. The Manzanita charger is lots more expensive but can be used for any chemistry at "any" voltage setting. Both of them are power factor corrected and while I don't know what that means I'm told it's an important little factoid to get right in order to use the public charging network. I have an adapter box to convert from the old AVCON chargers still out there in the public network, and I'm also gonna locate a J1772 connector to let me use the newer charging stations coming on line.
The old solenoid is only rated for 200A and will be overwhelmed by the new controller. My eyes bugged out when I saw the price for 1000A contactors though ... sigh.
For the new controller I have a choice between two. Kelly KDHD 144v 800A - advantage is it has a serial port for programming - disadvantage is reliability issues with them (and what I saw at Mosport on one of the motorcycles). Curtis 1221C (?I think?) that's rated for 144v and up to 1000A. Advantage is that Curtis has a reputation for rock solid reliability. Disadvantage - this is an analog controller tunable only with set screws on the side, and the controller itself is humongous. Which ever controller I choose, the other one is going on ebay.
The voltmeter - weird problem - somehow the shop, during the motor swap, did something to short out the voltmeter leads such that the wire burned up. Have to rewire this bit. Along the way however I want a more modern dashboard. Currently it's two analog style volt/amp meters, plus the stock VW speedometer and odometer. Yeah it's kinda retro to use analog gauges ...but... I'm a geek who wants to have detailed per-cell level data ...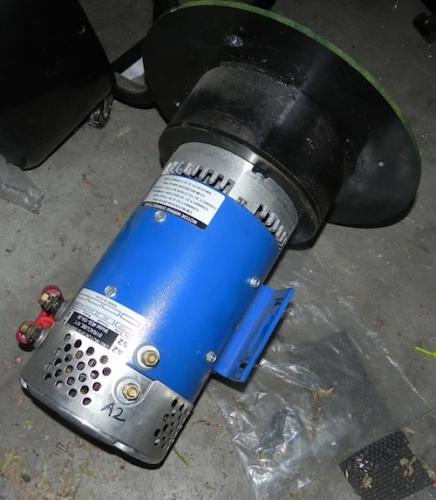 Old motor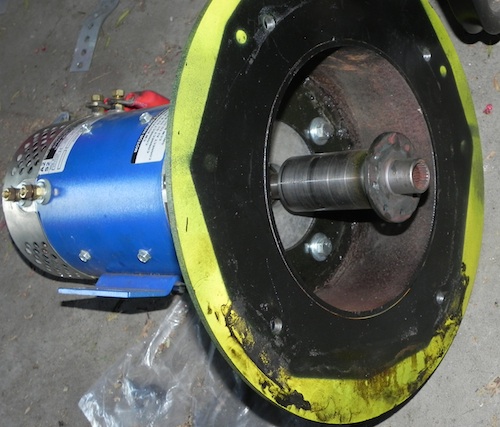 The business end of the old motor. The big flangy thing is a housing that bolts to a VW transmission. The thing in the middle is a collar that connects the motor shaft to a shaft in the transmission. It's a very simple but effective method to hook a motor to a transmission.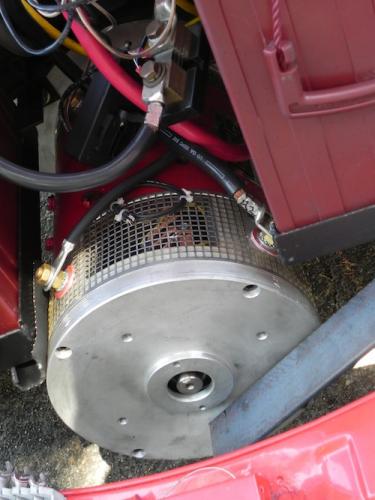 The new motor sitting in the engine compartment before the batteries were removed. The previous post should have some pictures of the motor before it was installed. That motor was set up a little differently - an adapter plate instead of an adapter housing, and a clutch plate.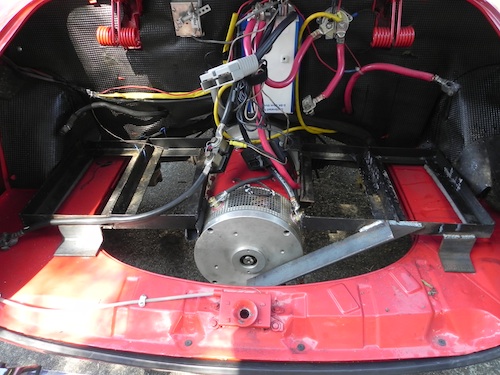 The empty engine compartment.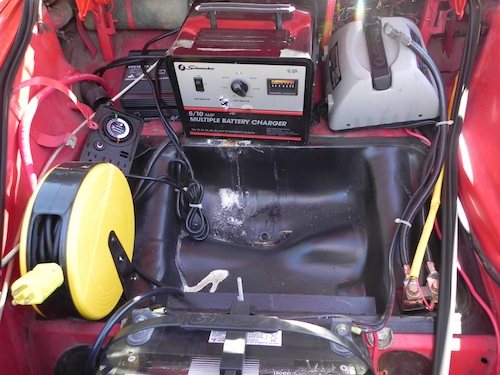 The front compartment, devoid of batteries. The big box is a 72 volt charger for flooded lead acid batteries that's going on ebay oh, next week or so. The other charger is for the 12v accessory battery.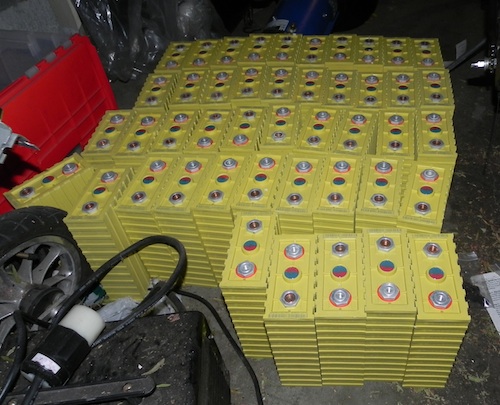 My special lithium shipment directly from China.