This is offered in the spirit of cautioning y'all to be careful with your battery packs.
Batteries obviously hold a lot of power inside them, but it's easy to forget because until you hook up wiring they seem like inert blocks.
I rewired up my headway pack (48 volt) so I could put it on my stretch (Xtracycle) bicycle. This time it's a 48 volt 10 amp-hour setup. I've been unable to use this bicycle because a BMS failure caused a few cells to fail. That's kept it from being 48v 20ah, so it's 48v 10ah with a few extra cells. At the moment I don't have a BMS and am planning to use a 48v SLA charger with the pack until I can locate a suitable BMS.
In any case the other night I wired up the pack and it looked really nice. I put it on the table and walked over to the computer to do something important on the Internet. A few minutes later -- sniff, sniff, what's that weird smell. Is a neighbor burning wood in a fireplace? A moment later the smell was stronger, so I got up to take a look around. The battery pack was smoking and maybe there was a bit of fire. Oops.
What happened is I'd put the pack down on top of a spiral bound notebook. The wire connected a couple cells, the short circuited cells made the wire heat up, and eventually it caught the paper on fire. The cells did not catch fire, it was the paper in the notebook. The fire was easily put out fortunately.
The cells still had voltage in them but where the rest of the pack read 3.35 volts (or so) the two cells read 3.2 volts. Maybe, I thought, it was worse than it looked (see pictures below).
However I just took the bike out for a 4 mile ride. Now where most of the cells are reading 3.25 volts the two cells are reading 2.5 volts. Obviously these two cells are a bit damaged probably from the heat.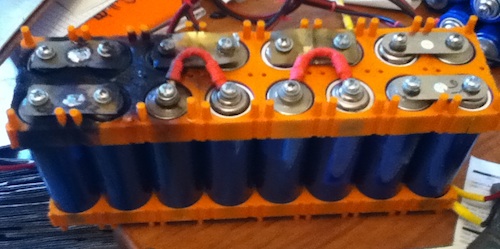 Shows how the heat damaged the cell holders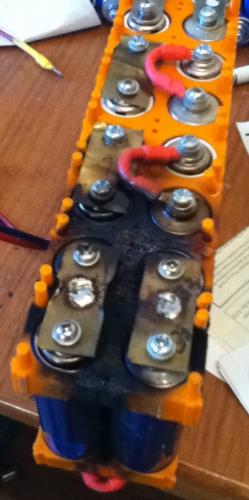 Another view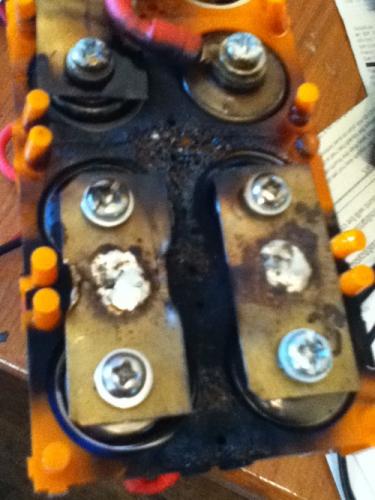 Closeup of the damaged cell holders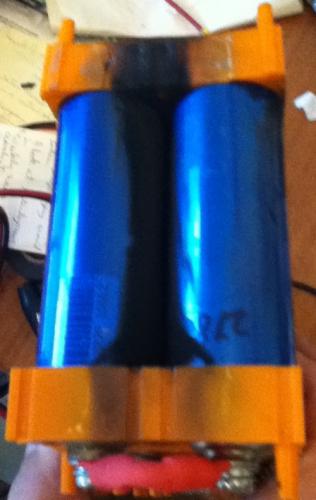 At the end of the pack, this shows that the smoke left a deposit along the side of the cells.