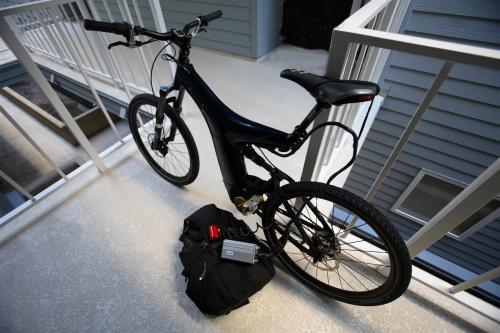 Optibike USV 500W from http://optibike.com/optibike-usv.html
72V Infineon Brushless Controllers (LYEN's Edition): Sensorless 12 FET 72V Infineon BL Controller(no regen)EC124310L from http://www24.brinkster.com/lyen/beta/
four 38.4 volt 10 AH Batteries connected in series & parallel to form one 76.8 volt 20 AH pack from http://us.itselectric.ca/38V_Lithium_Phosphate_10Ah_battery_pack_LiFEPO4_p/38.4v-lithium-phosphate-10ah.htm
stats: top speed on the flats about 36 mph no pedaling, can only manage 7th gear or the motor stalls. with a bit of pedal assist to keep the motor spinning at high speed, can reach speeds as high as 44 plus mph. on a slight down grade at 8th gear, got it as fast as 48 mph. fastest steep downhill run at full throttle at 9th gear and pedaling = about 62 mph.
range at full throttle is about 32 miles with the 76.8 volt 20 AH pack. it's no longer limited by the stock controller that forces you to conserve energy and pulse the motor on & off. suprisingly the motor is holding up to the continuous power runs, even up hills at continuous throttle. motor gets hot but has not broken down yet. so far about 400 miles on the odometer.