I always tend to jump in others threads. I am pretty well educated. Took a solid 2 years of physics. General and Advanced Physics. Nuclear, or what was called "Modern Physics". Calc 1 and 2, Differential Equations, Engineering Equations, Quantam Math. General Chemistry, Physical Chemistry, Organic Chemistry. Never practiced, was a subcontractor in the light commercial construction industry. My degree is in accounting, again, never practiced, 1 semester from a Masters Degree.
I never liked computers. In the 70's, my high school had one, no monitor. With a paper and pencil I could compute the problem faster, than the computer. It had to send my program somewhere, then a week or two later, a very large piece of green and white paper with a little sentance somewhere in the middle, had my answer. A computer to me has always been just a tool, the most used tool on my computer is the calculator, usually 2 or 3 calculators are open when this computer is turned on. The second most used tool is Cad. Then QuikBooks. I can build a computer, nowadays, for my needs, I get someone I know to build one for me, usually about $300 for parts, $100 labor.
Engineering Equations, we made a lot of graphs. I took a lot of advanced Economics, made a lot of graphs. I can interpret this following chart. Can't use it. It gives me the information I need to backward engineer, to get the information I need. These charts are in fact useless. But, I am a going to use it.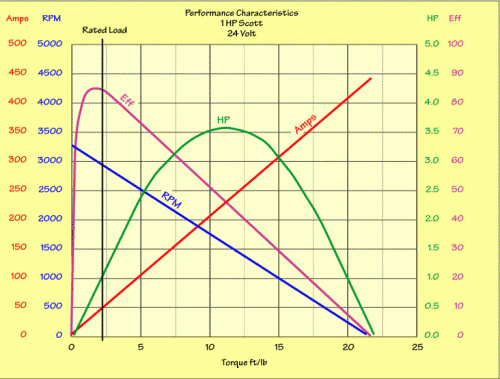 The Scott Motor is rated for 3000 rpm. At 25 mph, my Scott is spinning at 3200 RPM using 10.4 to 1 gear reduction and a 27 and 1/4 tire diameter.
Now the Physics Starts. The Motor is rated at 41 amps. My batteries supply 25 volts. That's 1025 watts. At 3200 rpm, listen, I round off, no reason not too, there is'nt any hard data, I'm only 65% efficient, according to the chart, remember i before e except after c,. .65 * 1025 watts is about 750 watts, or, a 1 hp motor.
So it takes about a HP to go 25 mph on the flat.
But, if I use this chart and re-gear so that the motor is spinning at 2800 rpm, the effiency is 83%. Well this is simple, (83-65)/65 is equal to about a 25% increase in efficiency if I gear taller to reduce my motor rpms.
wheel=27.25x3.14= 85.5" 85.5"/12=7.13' 5280'/mile revolutions/mile=5280/7.13= to about 740 rev/mile.
25miles/hour * 5280ft/mile * rev/7.13ft * 1 hour/60min = the tire traveling or spinning at 308 rpm. 308 * 10.4 = motor rpm of about 3200rpm. To calculate my new reduction ratio, I need a wheel rpm of 308 rpm, I need a motor speed of 2800 rpm for max efficiency, 2800/308= 9.1 ,, I need a 9.1 reduction for a better effiency.
My gut instinct, overall, I will loose efficiency by doing this, too many stops, too many hills. But, I'm a gonna do it, why, motor is too hot, that 35% inefficiency is going to heat. Heating my motor.
Right now, I don't have an amp meter hooked up. but, basically, I have a voltage drop of 1.2 volts on 24 volt system to go 25 mph. Accelerating and going up hills, I have a voltage drop of 2 volts. Range is 14 miles to 10% battery capacity, hard driving, lots of stops and lots of medium hills. This information gives me a lot more data than that useless gragh. Emperical proof.
I am going fishing, see you next week,
chuck