Frost & Sullivan Recognizes Vectrix Corporation's Hybrid Maxi Scooters for Alternative Vehicles Technology Innovation & Leadership
Date Published: 13 Dec 2005
Palo Alto, Calif. — December 12, 2005 — Frost & Sullivan recently recognized Vectrix Corporation with the 2006 Technology Innovation & Leadership of the Year Award in alternative vehicles for the company's development of Electric and Fuel Cell/Electric Hybrid Maxi Scooters.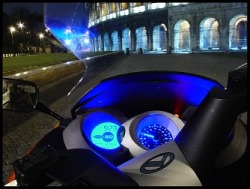 There has never been a more appropriate time for the introduction of fuel-efficient and alternative fuel personal vehicles. Vectrix Corporation and its partners invested more than $50 million in materials technology, product development, production and marketing, and, in 2005, began marketing its new line of electric maxi scooters. With availability slated for mid 2006, all indications are for a successful launch.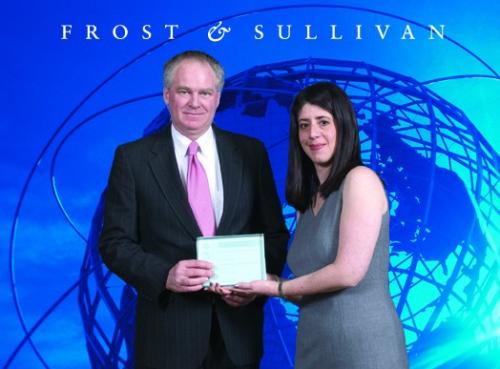 (L) Andrew J. MacGowan, CEO, Vectrix Corporation; (R) Inge Matthey, Vice President, Automotive & Transportation Group, Frost & Sullivan
"No longer willing and, in some cases, able to pay the high retail prices for gasoline, North American drivers have started to re-evaluate their transportation options, and electric scooters are taking their place among the many options," said Frost & Sullivan consulting analyst Mary-Beth Kellenberger.
"A factor that is fueling consumer interest is an extremely appealing design that has the vehicle resembling more of a modern motorcycle than a scooter," added Kellenger. "Test track performance has wowed industry observers with its power, performance, smooth ride, and range."
Vectrix Corporation's maxi scooter responds to all performance-critical needs with an almost silent motor, which is capable of a top speed of 62/mph and power that enables 0 to 50 mph in approximately 7 seconds. Consumer interest for this particular vehicle is high.
"Features such as the all aluminum construction, Nickel Metal Hydride batteries, and a customized regenerative braking system significantly improve on the range of battery-powered vehicles," observes Kellenger. "The regenerative throttle allows the driver to reduce speed using the throttle rather than the brakes, which not only reduces brake wear but also enables more controlled deceleration and puts the excess energy back into the battery."
Vetrix's Maxi scooter has an average range of 68 miles, and, with conscientious use of the regenerative throttle, the vehicle's range can be extended by up to 12 percent. Vectrix's ability to advance electric and fuel cell technologies to create a functional, as well as aesthetically pleasing product is expected to propel this company into a sales leadership position in the market.
Frost & Sullivan presents its Technology Innovation & Leadership Award to a company that has proven itself to be a leader in product development and innovation in the transportation industry. Companies receiving this Award have pioneered technologies or applications of technologies that have translated into the development of new markets or market segments. The recipients have created a benchmark for the industry in terms of product offering, technology, quality, and service delivery.