Washington University in St. Louis to invest $55 million in renewable energy research initiative
June 4, 2007 -- Washington University in St. Louis is creating a new International Center for Advanced Renewable Energy and Sustainability (I-CARES) to encourage and coordinate university-wide and external collaborative research in the areas of renewable energy and sustainability — including biofuels, CO2 mitigation and coal-related issues. The university will invest more than $55 million in the initiative, according to Chancellor Mark S. Wrighton.
A key goal of I-CARES is to foster institutional, regional and international research on the development and production of biofuels from plant and microbial systems and the exploration of sustainable alternative energy and environmental systems and practices. Research at the center will also focus on the region's important coal resources and efforts to mitigate carbon dioxide accumulation, improve combustion processes and reduce emissions. I-CARES will operate under the direction of Himadri B. Pakrasi, Ph.D., the George William and Irene Koechig Freiberg professor of biology in Arts & Sciences, and professor of energy in the School of Engineering.
I-CARES will be a part of the office of the vice chancellor for research, headed by Samuel L. Stanley Jr., M.D., professor of medicine and of molecular microbiology at the School of Medicine. An external advisory committee will provide guidance to the I-CARES director, and an internal steering committee will work closely with the director to set programmatic priorities and attract new faculty to the center.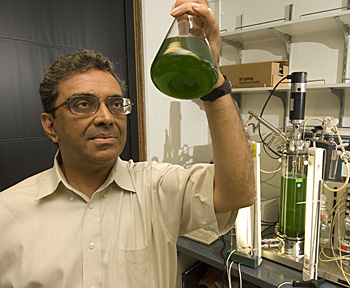 Himadri Pakrasi holds a collection of Cyanothece, one-celled marine cyanobacteria, which have the uncanny ability to produce oxygen and assimilate carbon through photosynthesis during the day, while fixing nitrogen through the night, all within the same cell. The goal is to put the cyanobacteria to work as viable, alternate producers of renewable energy.