I went through the brake light, battery break-in method for my Z20A and put together the results of the first 5, 2-amp, discharge/bank charge cycles. I will probably do a few more, since it is too darn cold to ride anyway :(
It seems that I got all of the charger/bike wiring done correctly on the first try, but the PakTrakr logs are telling me something is goofy with one of the chargers. Unless, it is the battery? I will get a new charger, test it and post the results.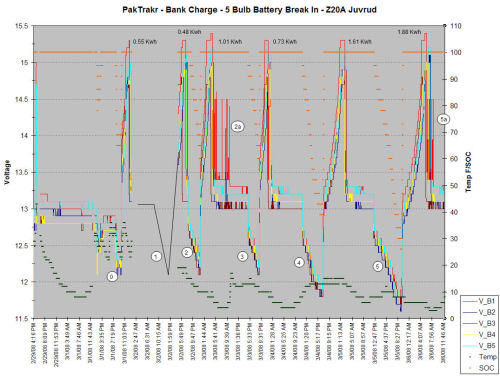 Attached is a Word doc that I put together that includes details on my setup/process, a full size version of the graph, and additional pictures. Sorry for making it an attachment, but it was easier to format than a regular post.
Questions:
1) Immediately after charge, can you begin discharging? Is it necessary to let the batteries sit for a while after charging? Should you wait between charge/discharge only during break-in?
2) How is the PakTrakr State of Charge (SOC) calculated and what does it mean?
Example: At end of Discharge 5, PakTrakr displayed SOC was 26% and each battery was 11.5 volts. I'm assuming this means that I have 26% to go before hitting a danger point, and not that the batteries are 26% away from full discharge.
I know there are more folks that would appreciate any info from others on their setup, process and results.