I started setting up my bank charging system.. i've got a 48v ev, & a 60v coming, so i wanted to be able to charge either bike with the same chargers.
I picked up 5 vector 2/6/10's, some powerpole connectors, crimpers & started putting it together. Here's what i have so far: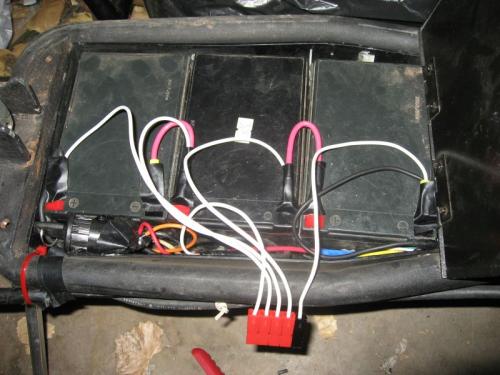 I had been wanting to rewire some of the series connections, so i got some 10 ga stranded wire, crimped some connectors on, & put a length of 18ga wire to go to the chargers. I crimped an anderson power pole to the other end of the charger wire.
there are 4 batteries in this bank.. the other is out of sight in a mount under the seat.
the middle charger connectors go to both the positive of one battery & the negative of the other. I put a black power pole connector on the negative terminal of the end battery, but the powerpole connectors will only go on one way, so that really isn't necessary, but it does give a visual of the connections. See astar's bank charging circuit in this forum for the wiring diagram.
I'll hook the chargers up the same way, with the negative of the first charger on the black, then the shared connectors the rest of the way, & the last positive on the end.
What is nice about this is the ability to easily add another charger if i need it, or rotate then a little, or just charge certain batteries. It is very flexible.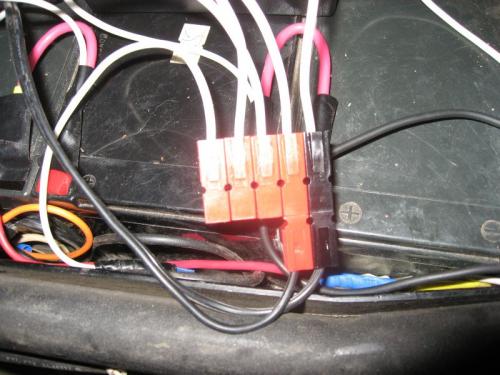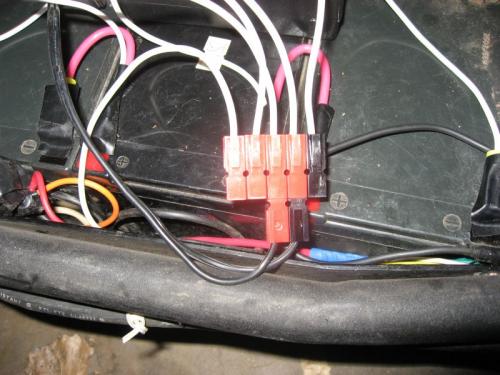 If i only have one charger, i can charge them up by moving the plug down the line until all are charged, or i can check the voltage of a single battery.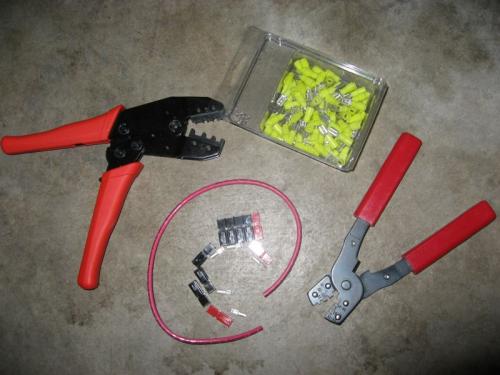 It's pretty easy.. i picked up a cheap crimper at fry's electronics that does the powerpoles (pretty necessary because of the way they click into the housing), & the other crimper does the insulated terminals.. i think it came from harbor freight.
I haven't got all the chargers set up yet.. still trying to figure out the best mounting setup.. i probably won't make it very portable with 5 chargers.
But with this, i can plug the 5 chargers into the 4 battery bank, or a 5 battery bank.. it could even be used for 1 or 2. The powerpole connectors are cool the way they hook together, they are made for thousands of connects/disconnects, are pretty cheap, & color coded. I think a crimper is the secret for working with them.
scotty