I had no idea when I took my girlfriend and her daughter to the cute NoCal town of Santa Rosa(where I was engaged to perform a show with Melissa Manchester) that in a pre-show stroll through town I would literally run into the dealer showroom of ZAP, which was studded with all sorts of electric transportation prototypes I have never seen before.
Since it was a dealer showroom they allowed me and my sweeties to take a short stroll through the display zones and I came upon the ZAPINO scooter (in pink, to the delight of the girls ;-) and asked where a testride could be arranged.
They pointed me to their warehouse on 3rd street and a friendly young technician actually let me pace it (inside the very long warehouse) just a little.
It took me all but a second to realize that this model kicks merciless behind compared to the E-MAX 2006 SPORT I currently own.
First, acceleration is quiet, vibration free and the ride, although heavier, feels astonishingly lightweight with my 230 lbs on it.
This model supposedly has a 3000 W motor on it, very nice suspension and is so much better built (upon this short glance) - it is almost ridiculous.
The scoot I rode there had just been taken out of the box and had no mirrors on it so I obviously did not ask to take it out on the streets but - boy- if I coulda, I sure woulda...;-)
The body of this model is wider but more balanced feeling, and nimbler in its handling.
Weird...how could this thing feel lighter than the E-MAX ?? But it did, I swear. I spend so much time on the E-MAX, I can tell the difference in only a few seconds.
I liked so much what they did with the front suspension, much more efficient than my scoot.
Oh yeah, please excuse the ambience in that warehouse....the photo was taken very quickly...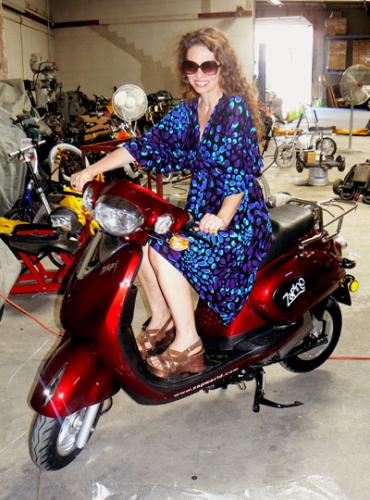 There is a Lithium upgrade (hopefully non-explosive) for this machine that might take the range up to 60 miles they say (no pricing yet) and the base price was $ 2995.-
Hope they start delivering soon!