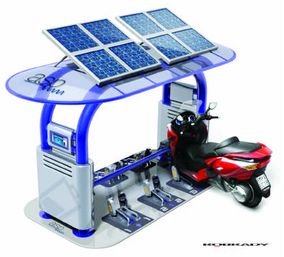 Vectric Shareholder Report Shows Promise For Electric Super Bikes
The Vectrix shareholder report for April 2007 just dropped into my lap. Besides some beautiful eye candy, the document lays out some important milestones reached by the company; as well as future developments underway for the vehicle line. Here are some of the highlights:
>>Financially, Vectrix has firmed things up by appointing HSBC to undertake a strategic review which could lead to a flotation. Such a move could would see the company valued at up to £200m. Yee Haw. Additionally, the big V might put itself up for sale to attract a larger company or interested private party. We'll keep our ears open on this one.
>>Besides its launch in the EU late last Fall, Vectrix now poised to push the new all-electric bikes in the UK (indeed, they launched yesterday) and in the U.S. by the end of June. Over 2,100 customer reservations in the U.S. alone are waiting to be fulfilled. The first 700 scooters allocated for the American market will see a roll out in major U.S. cities so as to increase visibility of the product. Look for the bikes in Seattle, Austin, Portland, San Francisco, Newport, and other locales. By the end of 2007, there will be up to 50
official Vectrix dealers in 8 countries (Italy, Spain, England, Portugal, Switzerland, Greece, Australia, and USA). Plans are already underway to expand distribution to Japan, France, Germany, and Israel.