Here's some more manufacturer (biased?) data for you. We've been working on performance and heat management (not efficiency yet). We now have a C130 setup that allows me (5'7"/155lbs) to cruise on the local freeway (the I-94). The following data shows a run I did (my regular commute) - it has a peak (very brief!) at 79mph (I've broken 80mph once). Basically flat terrain.
Peak Speed: 79.31 mph
Avg. Speed: 38.78 mph
Distance: 13.90 miles
Efficiency: 147.70 Wh/mile
The Freeway stretch was about 9 miles. With an efficiency of 165Wh/Mile and an average speed of 70.5mph.
There was a 1.9 mile stretch at high speed with an efficiency of 180 Wh/Mile and an average speed of 76mph.
Unfortunately the image size on this board tops out at 500x500 so this is too small to see that much. The top red trace shows the speed profile of the entire trip. The cursors on this top graph represent the span on the bottom graph. The bottom graph shows speed, power & distance. The two cursors on the bottom graph mark the high speed section referred to above. You can also see that the power draw (battery measurements - not motor measurements) is about 15kW / 20HP.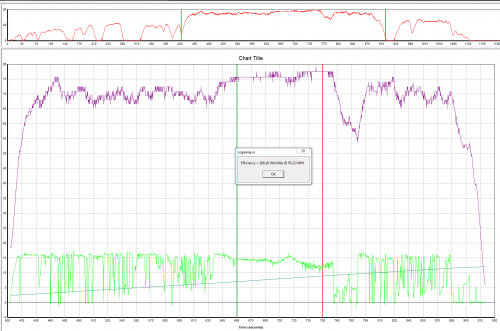 Now comes a question: How many of you would likely ride the bike on the freeway like this?
From my perspective (which is different than it used to be) I think it's fair to say that a bike is freeway suitable if it can go as fast as the trucks and have a little in reserve. The majority of trucks on the I-94 seem to travel at 65mph. So, I find it comfortable to ride our bike on the freeway.
What do you think?
We continue to refine and improve our bikes - and we continue to support our early-adopter customers. We remain very grateful to these early adopters! Together we're producing one of the best EVs out there. Yeah, that's just bold rhetoric and it depends on how one defines "best" - but, hey, it's what I believe.
Wishing you all Happy & Safe travels - whatever mode of transport you prefer!
John H.