OK, so I got this bike at auction, it was not moving so it only cost $500 (yet registration each year is a significant portion of that price). I hoped it was just a dead battery and when I got it home as documented elsewhere I was able to hook a charger to it and bring the voltage of the pack high enough so the built in charger would charge it.
I rode it for some time but eventually had a breakdown and had to tow it home. I then decided to fix it and upgrade it since I didn't wanna take it apart multiple times.
I got a rack of 19 Leaf cells and tested them last year. Finally got the garage cleared out so I can take the bike apart there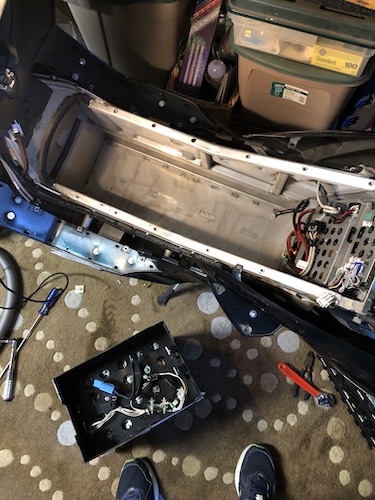 I am watching the YouTube videos from Antiscab to figure out what I am doing.
It's a lot harder than I thought, but I managed to get thru it. The two battery packs are too heavy to get out easily so I took the top layer (1/3 of the weight) out of the pack to make the rest easier to remove. I used a Ginsu knife to get thru the glue holding them down. Thought I broke a couple fingers dropping the first pack as it was on the edge of my strength (at almost 60, perhaps it would have been easier if I were still younger), but today I am OK.
I am now testing the original packs to see if I can recover the batteries to make a home battery to run items overnight. Now I am off to the hardware store to get the metal rods I appear to be missing to complete the new pack.