Equalising batteries. - Principles of Equalisation
Background.
It is the case that during manufacture, there are cells variations which include internal resistance and internal leakage (of the charge). These two effects produce/cause the problem we know as imbalance, whereby during use, (both charge and discharge) the state of charge of cells in series, begins to vary cell by cell.
In all series connected batteries, when the state of charge between cells varies sufficiently, a deep discharge will result in those cells containing the lower charge to become 'empty' whilst the remainder of the battery still has a useful charge remaining. These 'empty' cells will become reverse charged if further current is taken from the battery.
Equalisation.
In series connected batteries the term Equalisation refers to the process whereby equality of state of charge of each and every cell is achieved.
The need for equalisation is brought about by the simple fact that not all cells are equal (there will always be variations in the manufacture of the cells) and because the cells are series connected and all receive the same charge as each other regardless of their losses (through use or leakage), imbalances in the state of charge of individual cells will eventually occur. To correct this, some means of compensating for this 'inequality' is needed.
Lead Acid batteries.
The Lead Acid battery is equalised by the simple expedient of 'overcharging'. In this process the battery is given a 'full' charge which is then followed by a further charge which is continued until all cells are 'full' as denoted by the specific gravity of the electrolyte.
This simple process is adequate and does no damage to the cells. During the 'overcharge' the cells 'gas off' i.e. they produce oxygen and hydrogen (electrolysis of water) and the lost water is replaced as required by 'topping up' the cells with distilled water.
As a side note. Lead acid cells are not damaged by reverse charging (cell reversal) as both plates (+ve and -ve) are basically lead.

Comparing Lead Acid with NiMH.
The NiMH cell is totally different from the Lead Acid cell in almost every detail. Lead acid are open to air and can be topped up. NiMH are closed and sealed and pressurised. Lead acid can be reverse charged NiMH cannot. Lead acid can be overcharged without damage, NiMH will build up excessive internal pressures if overcharged and can become permanently damaged.
[ Regardless of the above it is (common?) practice to try to compensate for imbalance of the NiMH cells by overcharging. Certainly in the case of the Vectrix charge process 'overcharge' is the norm and it occurs every 12 or so hours of use and the damage can be seen in the failed batteries and/or the bulging cells which are contained within most (probably all) Vectrix batteries.]
Equalisation methods/practices
The present method of equalisation was developed many years ago for early battery technologies (Lead Acid) whereby the 'overcharge' or 'equalising charge' did not effectively cause cell / battery damage.
With modern battery technologies, equalisation by overcharge is totally unsuitable due to the potential damage which will be caused by even moderate overcharging. For the NiMH cell, internal pressure begins to build up after the cell reaches 90% of 'full'. There is a substantial pressure build up at 100% charge and at 120% charge, the pressure becomes dangerously high. see graph below.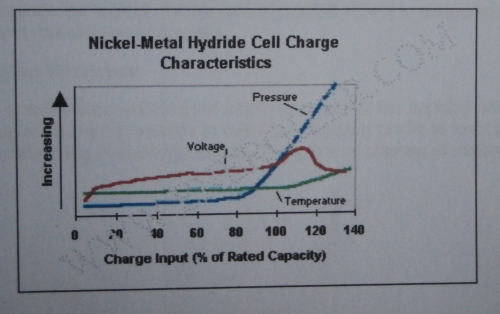 The ideal method of equalisation of 'new technology' batteries is to monitor every cells voltage and to provide a means of varying the charging current cell by cell, whereby every cell of the battery is charged to full but no cell is overcharged. This is generally referred to as a 'battery management system'.
In the absence of a battery management system and in view of the cost and complexity of retro fitting such a system to the Vectrix, I have considered the possibilities of doing something different.
Logically, if you cannot safely equalise by overcharging, could it be possible to equalise by undercharging or discharging? What I am in process of doing is testing the following method of 'equalisation by undercharge/discharge'.
In Practice
Equalisation by discharge can be easily achieved by permanently fitting a low value resistor (39.0 Ohms)to each and every cell, the value to be determined by available time for equalising and a practical rate of discharge (not too fast that it would empty the battery in too short a time span).
When the battery begins to show a 'lack of range'/'loss of capacity', it is discharged to it's lowest practical level and left to complete 'equalisation' i.e. to run completely flat (as in 0.1 volts per cell). When this is achieved, the battery is then recharged. Universal Freddy would bring it back up to 100 volts in a half hour or so and then the Vectrix charger would take over the charge completion.
Th result of this would be that all cells would now have an equal state of charge unless there were faulty cells, in which case no form of equalisation will succeed.
In a really bad case of imbalance, assume that some cells were at a 10% difference in state of charge, from battery 'empty', some cells empty and others at 10% charge, it would take 5 days to completely empty/equalise the battery. In practice 1 day for every 2% of imbalance.
This unusual method of equalisation will never reverse charge a cell nor will it ever overcharge a good cell. This method of equalisation has been undergoing tests on two eight cell sections of Vectrix battery for the past few weeks. Results to date are good, one of the two sections had cells voltages ranging from less than 1.0 volt up to 1.31 volts at the start of testing, after the first equalisation discharge all cell voltage remained equal throughout a charge of 30 A/H and remained equal throughout a discharge of 26 A/H. These cells have retained their equal voltages throughout further charge Discharge cycles.
The second section has shown almost identical results and I now intend to build this system into my Vectrix battery (which is not very well at the moment and a battery rebuild will be a good time to incorporate this system).
There is a natural 'follow on' to this system. If the individual cell voltages differ, then they will also discharge (through the resistors) at different rates. Higher voltage cells will discharge faster than lower voltage cells. This results in an ongoing 'equalisation' which is taking place at all times. This could account for the equality of the cell voltages in the tests which have taken place so far.
The cells fitted with resistors are pictured below.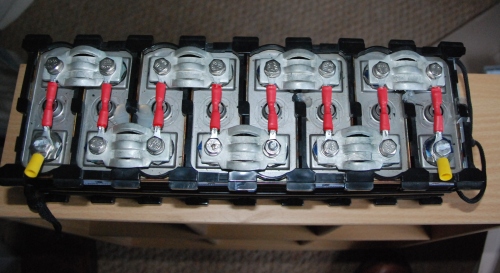 Before the doubters begin to whinge I will admit to the 'faults' of this system.
The cells are being permanently discharged at the rate of 26mA (at 1.0 volts) to 35mA (at 1.35volts) per cell.
There is a heat production of between 2.6 watts and 4.8 watts (whole battery) continuous.
The battery will 'run down' in 35 days from being fully charged with no useage.
A 'Universal Freddy' will be needed to begin the recharge process following every 'equalisation'.
However, the NiMH cells will not be damaged by the total discharge provided that it is not left totally discharged for extended periods of time. ( I have taken this information from Ever Ready's data sheet, they do not define 'extended' but I suggest that it refers to Months as opposed to Days/Hours).
Whatever else might be said about this radically different method of 'equalisation', it will never destroy a cell through overcharge unless that cell is already in damaged/faulty condition.
Further information is available from The Laird by personal message or on the forum.
Have fun folks, I am waiting for the comments / critisism.
The Laird :-)