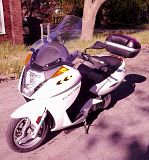 It's taken me a while to start this topic, and I probably won't write a lot at once, because typing is somewhat painful for me these days. Still, those who have been following the successful swap/purchase of my bug-ridden 2015 Zero SR for Kocho's 2009 Leaf cell converted VX-1 expressed some interest in my experiences with my Vectrix, and comparisons to my other bikes, past and present. First, the good:
The Vectrix is the second-fastest (after the SR) electric bike I've owned. It is easily faster than the ZEV 5000LA I owned for about four trouble-filled years. It's faster at just about every speed, maybe excepting the 5-10MPH range, in which it may be about the same. There is no comparison at all in the 45-65MPH range, where the ZEV didn't so much accelerate as "reluctantly gather speed." The handling is also better, and I love having Reverse, as my garage doors sit at the bottom of a modest but still significant slope up to the street. As for range, I had to ride very carefully to get 35 miles out of the ZEV, with 40 miles being more or less the limit. With the VX-1 I can easily ride for 50 miles with just a little attention to riding efficiently, and I estimate the safe range to be 55-60 miles, with about a 10 mile 'reserve' created by the bike "thinking" it has a 40AH pack rather than the actual 60AH or so the Leaf cells provide.
The less than good:
Man, this bike is noisy, especially under load! I try to think of it as a turbine-powered vehicle (the 1960s Bat-mobile, for example), and that helps a little, but my mechanical spider-sense keeps telling me that something is wrong - those straight-cut planetary gears are just plain annoying, and they even 'warble' a bit under the right (or wrong) conditions. I definitely plan to install sound-damping plastic foam this Summer. I'm postponing plans to replace the gear oil with synthetic, after being told by several VX-1 owners that they all sound this way, even after synthetic oil is used, but it does detract from my riding pleasure to have the back of my brain telling me that I'm riding a "sick" machine.
Much less an issue, but still an issue, is having to worry about the Leaf cells getting warm enough to degrade, as Leaf cells are prone to do when hot. Mostly this means simple things like charging on different days than I ride, except for a "top-up" from 14 or 15 bars to 17, because Leaf cells also dislike sitting around full. It also means, though, that I should limit hot weather use of the bike to rides on which I don't have to stop and recharge at all. This will probably result in me not using the Vectrix to ride to my favorite mountain park (Grafton lakes State Park) to swim during heat waves. Instead I'll likely take my ICE bike (a 1982 Suzuki GS450T for the last few years, soon to be replaced by a 1982 GS650L vintage cruiser) on that trip if I want two wheels, prompting a little extra environmental guilt.
Upgrades:
I've already added a Givi backrest to the Givi V46 top box for passenger comfort (and that sporty Euro-scooter look). I also lubricated the infernal Givi locking mechanism with silicone spray lube; I had been going Nuts thinking I couldn't remember how to operate it, but it turns out to just have been stuck.
I also plan to add several temperature sensors, two or three on the pack itself, and one for the outside temp. Then there will be the already-mentioned sound-deadening foam, and a pair of animal warning whistles. I know from experience that these whistles help keep wildlife from running under car tires, but I don't know for sure, even after several years of using them, if they work on motorcycles...