So I am going to recycle all the old cells that are still good into a battery pack that will absorb my excess solar power and save it for a rainy day (Ha! Not in California)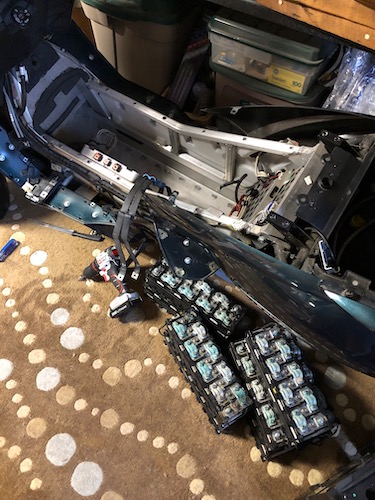 I took the batteries out and dismantled them into 6x 8 and 6x 9-cell packs, 12 original packs total.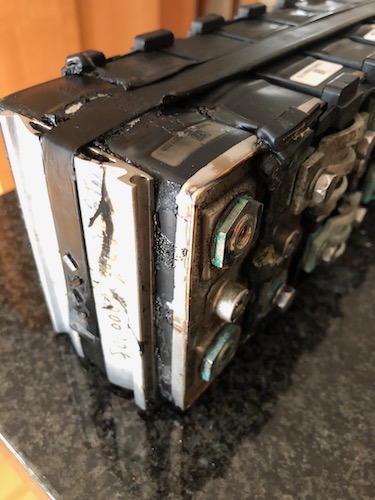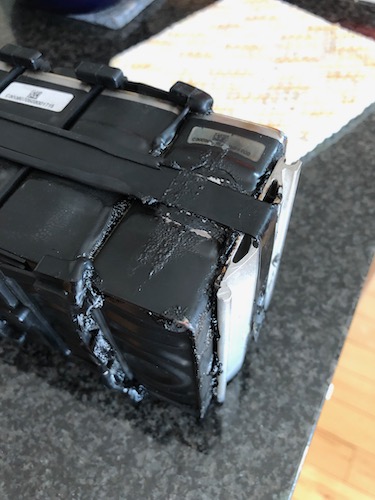 I found the reason my battery failed and it appears to be a single cell that totally melted down (above). I have run each of the other battery packs, including the one with the failed cell by-passed, and get between 25 and 28 Ah of power after charging the packs. Each of the cells give the same 2 decimal place reading after being charged and after being discharged. They all started dead from self discharge. That seems REALLY good.
So I am thinking I will use the cells and break them up into 10 cell or maybe 9 cell packs and hook them in parallel to a couple of RV battery chargers during the day as I have excess solar and thru an inverter at night to run my TV and such after dark... If I do 10 cells it will require creating a new mount for the batteries and getting them out of their packs, but that gives me a battery that is very similar to a 12v car battery. Can be charged to 16 volts and run down to 10 volts, my inverter likes that.
My RV battery charger seems to be doing a good job of keeping the voltages below 14.4v. So if I am careful I can use 9 cell packs, although that wastes 3 cells instead of 2, and I would have a battery that can be charged to 14.4 volts and run down to 9 volts, not that my inverter goes that low.
But the advantage of using 9 cells should be obvious, half of the packs already are 9 cell so I can reuse the big plastic container that they came in. For the other packs, I could take one of the 8 cell packs apart and marry one of each of its batteries to the 5 other packs and have leftovers, for at least the one burned cell on one 9 cell pack and that leaves me with 2 spares for future use.
Anyone have any great advice? 10 cell means less chance of overcharging, the great destroyer of NiMH batteries, 9 cell means I may finish the project before getting bored. Does anyone have advice on how to reuse the metal bands that hold the packs together?
I am not even sure HOW I will monitor the batteries to protect from overcharging. If I keep the volts below their max charge couldn't I just leave them charging whenever there is power? I guess that wouldn't charge them all the way so that's a waste.