Hi Everyone,
My name is Thomas. I'm from Holland. I wrote "Honda Goldwing SP1", with SP as in "Solar Power". I have plans to do a conversion on this 27 year old bike, though I'm still well before the go-no-go decision point.
- Have I got the guts to dive into such a major project?
- What is it going to cost?
- What will it deliver?
With the last of these three questions fixed at 100km/h (62 mph) max speed and 100 km (62 mi) range, the 1st two are the main questions
That is the reason of this posting. I would really appreciate it when you, the people with the experience, could evaluate my considerations and maybe give me some pointers on the web.
Why a Goldwing? Well, I own it, which is the main reason. It is spacious and sturdy. I also got it because the bikes I had before the wing, kept breaking down. After 173.000 km (107.500 mi) this Goldwing is nowhere near breaking down. Here is what it looked like in 1992: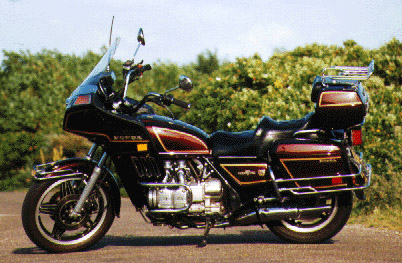 Why converting? I would like to move around without any CO2 emissions, I would enjoy the achievement of such a project and I would like it to be an example for others, to show that zero emission driving is possible.
Ok. Let's go: I did some research on the Twike and the Vectrix. I figured that these should provide quite some data to get a gut feeling estimate of the specs necessary for my SP1.
The Twike
Weight: 272 kg (600 lbs)
Max speed: 85 km/h (53 mph)
Motor performance nominal: 3 kW
Motor performance peak: 5 kW
The Vectrix
Weight: 212 kg (467 lbs)
Max speed: 105 km/h limited (65 mph)
Motor performance nominal: 15 kW?
Motor performance peak: 20 kW
My SP1
Weight: 320 kg (705 lbs)
Max speed: 100 Km/h (62 mph)
Motor performance nominal: 18 kw
Motor performance peak: 23 kw
I think I can get to 100 km/h (62 mph) with a 15-20 kW motor, but acceleration would take ages. What about a 18-23 kW motor, does it even exist, or would the next one be 20-25? And what would really be the disadvantage of a heavier motor? Would it be less energy efficient?
Oh, the original 1100cc fuel engine delivers 60,5 kW. The max speed is over 200 km/h (124 mph). But as the graph for required performance per speed, is a logarithmic one, theoretically I could suffice with roughly 11 kW.
About the weight: The fuel engine weighs 108 kg (238 lbs). It comes out with fuel tank and a number of fluids, reducing the weight of the bike by 115 (254). I made calculations based on 6 Twike Li-Ion batteries. Which would be 105 kg (231 lbs) bringing the SP1 up to 320 kg (705 lbs).
The Twike
Weight: 272 kg (600 lbs)
Range: 110 - 200 km (68 – 124 mi)
Capacity: 7 kWh
The Vectrix
Weight: 210 kg (467 lbs)
Range: 40-80 km (25 – 50 mi)
Capacity: 3,7 kwh
My SP1
Weight: 320 kg (705 lbs)
Range: 80 - 120 km (50 – 75 mi)
Capacity: 8,4 kWh
I have to bear in mind that I'm the worst of the three when it comes to cw value.
In terms of mounting an engine and reduction, I'm confident. I haven't done manual work in quite a while, but it seems like fun and rewarding. I will be using the cardan axle which has a 3,4:1 reduction in the last 2 perpendicular sprocket wheels.
Further reduction I can calculate from the wheel outer diameter and 100 km/h (62 mph) speed and the motors statistics. I didn't do this yet, but I estimate 100 km/h (62 mph) is 700rpm on the wheel. That is 2380 rpm at the cardan axle. 2:1 or 3:1 will do, depending on the motor.
A hub motor is no option as I see no way to mount it, plus put a planetary reduction of probably 8:1 into the wheel and then rebuild the whole rear fork. Also space for the disc break would be lost, and I would get trouble with getting it licensed.
Actually, all mounting work I'm not "afraid" of. Fixing batteries, wiring, soldering, I foresee no problem. Making it all water proof, will be a challenge, but still doable. Also a clutch operated circuitbreaker is not too complicated.
But now comes what worries me more: The electrical parts. And the dimensioning of them. I feel I'm more in the dark there. I'm talking about:
- Controller
- Batteries
- Throttle
- Contactor / contact key
- Charger / charging
- Regen breaking
With all these I run into questions. I've seen that the visforvoltage.org site has quite a number of links that I haven't all read yet. So please don't feel I'm lazily asking your help. I will explore deeper into the matter myself. But if you have some assisting advice, that would be great. There is a good chance that those of you who have experience, could point out specific resources that can be of help. As mentioned, I'd be much obliged.
Controller
I know it manages the electricity going to the engine, but not much more than that. Which one should I get? And how and where do I get one?
What voltage and Amps will be going into it and what voltage and Amps will be coming out of it?
What would be the ideal voltage of my motor? 48? 72? 220? 380 maybe? CD? AC? Three-phase? (The Twike runs on 353 Volts, three-phase).
Batteries
I know Li-Ion is the best energy/weight option, but they are the most expensive as well.
In a later stage, can I just add cells in parallel?
Throttle
Is there a Vectrix like throttle out on the market, and water proof as well?
Contactor / contact key
I think this is what we call a "relais" in Europe.
Relais are operated by usually a low power electricity. Like the 12 V circuit. I know my SP1 will be having a separate 12 V system, to operate lights (LED I plan), indicators, horn and meters on the dash, but if a DC-DC converter running off the high voltage system is running the 12 V circuit, how can it be running to power the contactor?
Charger / charging
I see complicated schemes of charging cycles. Is there a simple solution?
Regenerative breaking
I would like that. I'm thinking of a huge project and quite some expenses, so I might as well go "all the way".
Is that just an elaborated controller, of does it require additional components?
And the main question, How do I connect it all? Are there any sources that provide guidelines for this?
As you can see I'm a mechanic rather than a electrician. But I think that once I have my dimensions right, I could also get advice from the stores where I will be buying the gear. And maybe some of you might like to comment. I would definitely appreciate it a lot!
What I can do in return, if I decide to go-ahead, is to post my progress on this forum, just like Andrew did in his "My KZ750 electric motorcycle project", http://visforvoltage.org/forum-topic/motorcycles-and-large-scooters/587-my-kz750-electric-motorcycle-project
All the best, Thanks and Cheers, Thomas.