UPDATE: April 30, 2008: Please click here
"Bank charging" is rapidly becoming more popular. The main problems are complexity, bulk, and expense. I'm trying to figure out how to deal with these problems on my motorcycle. I bought 8 1087CBD 10/6/2 amp chargers, and two of them are bad. If it wasn't enough trouble sourcing and paying for the chargers, now I have to deal with warrantying two via the mail. And, when/if I find a way to get 6 of them mounted on my bike, there may be a good probability of any one of them failing within a few months. Using one charger is much more simple, elegant (as PJD mentioned), and less bulky.
Bank charging can be done with one charger by charging the batteries in parallel. The idea is to disconnect the series connections, and connect the batteries in parallel for charging. The series disconnects need to be high-power connectors, such as Anderson connectors. This has been done with good battery balance results. Here's the setup I envision for my 72v bike: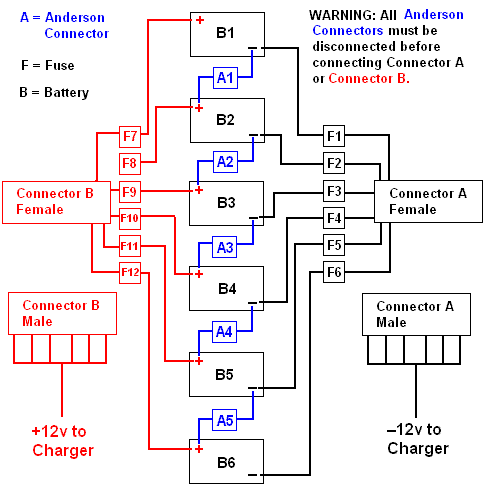 All of the Anderson connectors in blue must be disconnected before connecting either positive or negative charger connector. The fuses are in place to prevent a fire in case this happens. I may actually put the fuses right next to the battery terminals.
This can be done for a 60v scooter by routing the interconnecting wires (in blue in diagram) up to a point that is accessible so they can be disconnected easily before charging. The extra length in wire shouldn't be a problem with 6 or even 8 AWG wire.
This thread is kind of like a sequel to thread: Splitting the output of one charger