I traded for some EV components and was looking for a project to put them in. An Advanced A00 4009 motor, Alltrax AXE 4844M controller, main contactor, reversing contactor, Curtis meter, lugs, wire, fuse, etc. I didn't want to do a motorcycle so eventually I settled on an ATV to use mainly as a utility vehicle and perhaps to groom half a mile or so of cross country ski trails in our back yard. I put an ad in craigslist and wound up with a '87 Polaris Trail Boss with a blown 250cc 2-smoke motor. A few hours later I had the ICE gutted and the remains power washed. The original transmission was a CVT driving a simple forward / neutral / reverse gear box which has a chain drive to the rear, solid, axle. It would be nice if it had a limited slip rear end but I already got more than I paid for. Rear brakes is a disc mounted to the F/N/R transmission. It's not on the axle, though that would not be a difficult conversion. It has front drum brakes that seem to work quite well and will probably work better once I go over them.
I'm thinking that I will remove the original F/N/R transmission and replace it with a jack-shaft, a disk brake on the axle and a contactor forward / reverse via swapping the field windings on the motor. The transmission is pretty big so removing it will give me more room for the motor. Or would I be better off using the mechanical F/N/R box instead of the contactor one, if possible?
My second question is batteries. I will be running 48 volts total and I'm thinking something in the 30 AH range. What are good brands for use in EV's that are subjected to bumps and jarring? Has LiFePO4 technology really proved itself when it comes to expected life with a proper BMS? Where do I find a well designed BMS, preferably in kit form? My gut reaction is to go with SLA and four independent chargers. Charging via solar panels is also a possibility down the road.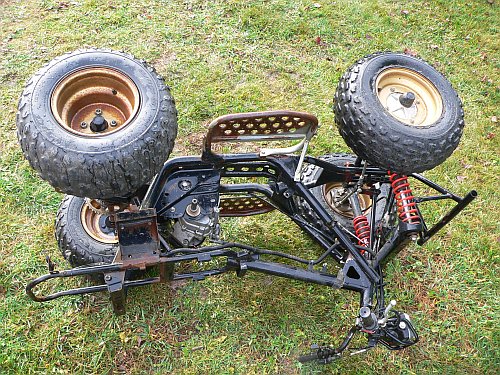 I tipped it on its side and...

...all this junk fell out ;o)