This is an update on some earlier posts (see Battery pack Tetris and My latest e-bicycle build). It's now running and I've taken it on two rides.
It's very powerful - the motor is a 48 volt crystalyte 5xx w/ 25 amp controller. Hitting the throttle on full can get this bike to 23-24 miles/hr and acceleration is great. The terrain around me is very flat but there is an overpass that I usually avoid because it's too steep/long. The ride was going so well I took that overpass, and with a relatively full throttle it zoomed right up at 17 miles/hr, mild pedaling on my part, I didn't have to stand up, didn't have to downshift from the max gearing. A car approached on the onramp that's halfway up so I did slow down until sure the car would wait for me, and then was able to speed right back up w/ no problem.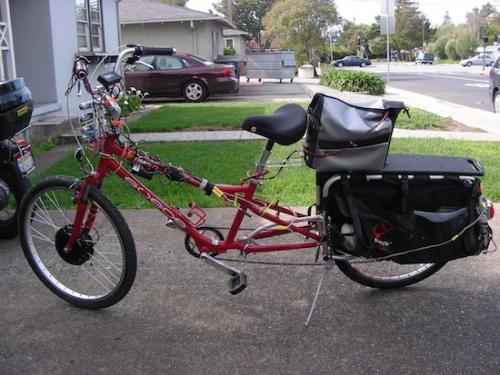 The battery tetris is neatly contained within that bag. I'm not 100% convinced this bag is a great idea or located well. It does make the bike a bit top heavy.
I keep looking at this space just behind the seat post and there are these two posts meant for the brake anchors. I think I could bolt a mounting platform to those posts and build a cage to contain the pack.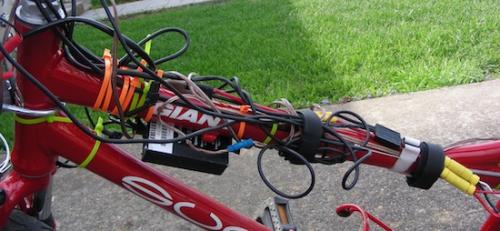 Too many zipties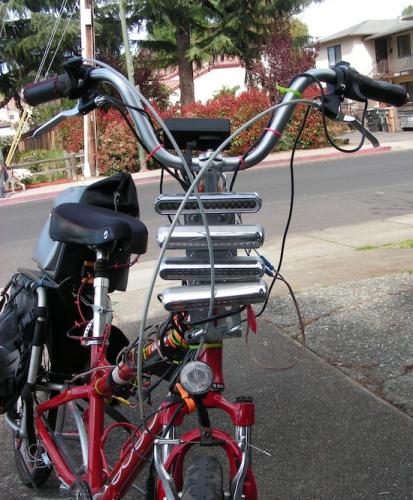 EXTREMELY BRIGHT