Hi all,
I still love my Vectrix, but my wife and I are making a "tree-change". We are in the process of moving to a rural block that is too far from the nearest town for my Vectrix to be useful :( So, I'm keeping the Honda 650, but selling the Vectrix. This is a shame, as I've just (in the last year or so) become comfortable with taking the Vectrix apart to keep it maintained (originally to replace 3 cells with brand new ones purchased from Vectrix Aus last year). I've been impressed by how it's put together and was looking forward to trying out some Lithium batteries, but other plans got in the way and we have been quite busy this year (see http://users.on.net/~mdmay74/permaculture_home.html :)
After replacing the cells in the battery, I did install a fairly cheap thermometer to give me continuous battery temperature reading, but it obviously wasn't waterproof enough, as the LCD display went strange after a particularly bad downpour. It's a simple solution that I found gave me that bit more confidence in warmer weather and I can reinstall a new thermometer (it was about $20 from JayCar, IIRC) if that helps the person who wants to buy the Vectrix.
It is a 2007 model (apparently it was the first one sold by The Solar Shop here in Adelaide, around Easter 2008). Silver colour, and includes an RJays grey waterproof cover. While we're still in the city, I still use it once or twice a week and although the range isn't quite as good as when I first got it, I still feel comfortable on 40km round-trips at 60-80kph. It has a good rear tyre (replaced last year) and a pretty new front tyre (replaced a couple of months ago). It's got 14,500 kms on the clock.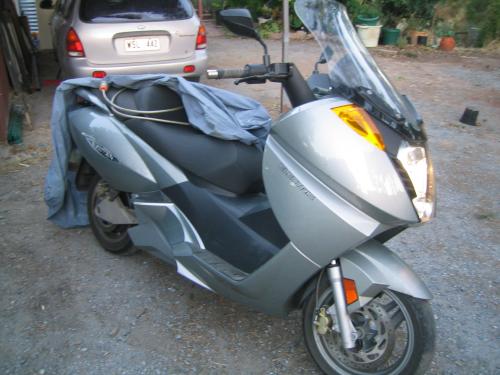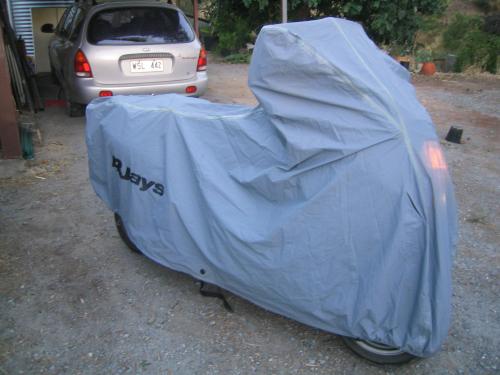 I'm asking $4,000 ono.
Contact me here, or at (the same username) at internode.on.net or on 0457-120834 :)
Cheers,
MAtt.