There's been a long running debate about whether it's bad to put TS LFP cells on their sides.
We've spoken to several people about this - including Thundersky. The answer is both yes and no. Or to put it another way - it depends which side.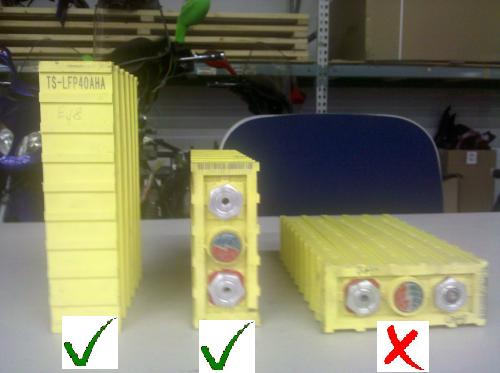 Summary: Standing upright - good. Standing on narrow edge - good. Lying flat - not good.
Explanation: Yes, as a lot of us hypothesized, it's to do with electrolyte level - however, it's not really to do with the safety valve. There is only a small amount of electrolyte in each cell. The plates "wick" the electrolyte so they need to have their "feet in the water" so to speak. Imagine the plates having a sponge cover (I am not a battery engineer and I don't know the exact construction details!). When they sit in electrolyte they can soak up more. If they don't have contact with the electrolyte pool they will dry out and become ineffective. So when the cell is flat the top plates can suffer from electrolyte starvation.
When standing upright or when on the narrow edge the blow-out valve can function without venting electrolyte. Note the blow-out valve still works with the cell on it's side but it will vent some of the electrolyte while doing so. However, by the time the blow-out valve pops your cell is too far gone to recover (regardless of whether the electrolyte remains in the cell or not). This valve is a last stand safety measure - not a means of normal operation. Even lying flat the valve has achieved it's main purpose - preventing a dangerous build up of pressure. It just did it more messily than when the cell is in the other two orientations.
Hopefully these three simplified pictures help demonstrate this: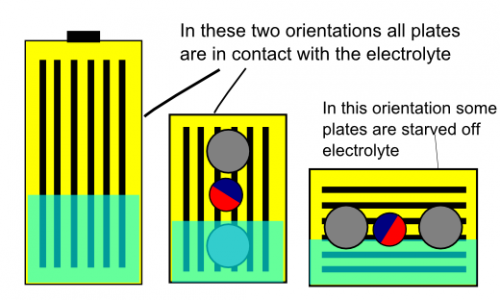 I hope this info is useful and helps to further the community's understanding of the TS LFP cell and it's usage.