The Raliegh Mountain Bike that I built was more of a test project. I wanted an electric vehicle that could get me to work 6 miles from my home.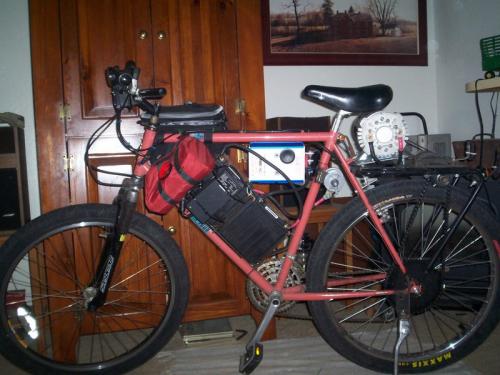 This Raliegh bike met the requirements of the law in Texas and met my requirements as transportation to and from work. I needed my electric bike to do more. I wanted more comfort. The Raliegh was not suspended and gave me a good workout. The seat, I tried several, was never comfortable. Handling was good up to 20 mph, got a little squirrelly above that speed. Range was'nt to good. About 10 miles no pedaling. Limited cargo capacity.
I started looking into alternatives. In Texas I do not have to have pedals to meet the bicycle law. I could have built my own frame, but, experience has taught me that it easier to build something that some one else has thought out first..
The "Cheetah" looked easy to build and I liked its flexibility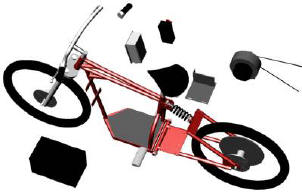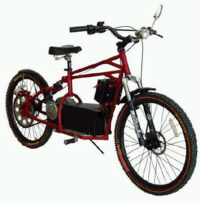 Tools needed to build this bike are amazingly simple.. A welder. A hacksaw. An electric drill. Bench grinder. Good selection of drill bits. Be real nice to have a metal cutting chop saw, drill press, 4" grinder, jigsaw with metal blade, hole saws. But not necessary. I modified the metal from round tube,, EXPENSIVE,, to mild 1" square tube in 14 and 12 gauge wall thickness. The seat and head tube I cut off of an old murray elcheapo junko mountain bike. I cut up the front forks and re-used them right behind the batteries. For the rear pivot i used black steel plumbing pipe, you need 2 pipes that fit inside of each other. I also cut off the brake studs? from the murray bike which I welded onto the rear bracket for the rear brake.
Results from day one at the shop