Couple of things really.
Today I took my gearbox apart again because its whine has gotten quite bad. Admittedly it has 27,000km on the clock, so thought i'd investigate more as simply changing the oil didnt make any difference.
What I found was that the main bearing at the back of the gearbox was basically stuffed and there was movement to load up the gears significantly to make them whine a lot louder than my previous machine.
The short term answer for me was to swap the gearboxes over. Which i did. I also took the bearings to a bearing co to get matched up and they believe them to be chinese bearings simply because they have no markings on them whatsoever.
I've ordered a new bearing for it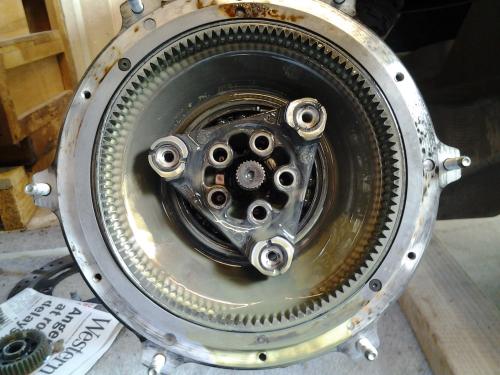 You can see the bearing at the back of this photo.
Anyhow the cost difference between Chinese and Japanese bearings. Chinese bearing $35 NZD Japanese Bearing $90 NZD
The bearing fit also isnt particularly tight and I was told by the engineering co. (next to the bearing co.) that they'd used bearing locktite on it. Getting it out was as simple as a few well placed taps with a hammer and a well fitting chunk of metal. NOTE : there is a fairly well hidden circlip/retaining ring stopping the bearing falling out. Obviously remove this prior to replacing.
So, if you take the side of the swing arm off and unbolting the large nut as if to remove the back wheel and then, grab the tyre and see if there is any movement. If there is - the bearing on the back is toast.
When the bearing arrives (next week or so...) i'll post all the size details and what not of the bearings and the seals req.
Next thing was that i noticed is that the front brake caliper and the back brake calipers are identical including the mount. Not that this helps anyone but i thought it interesting.
See here
Right hand is Rear, Left hand is a front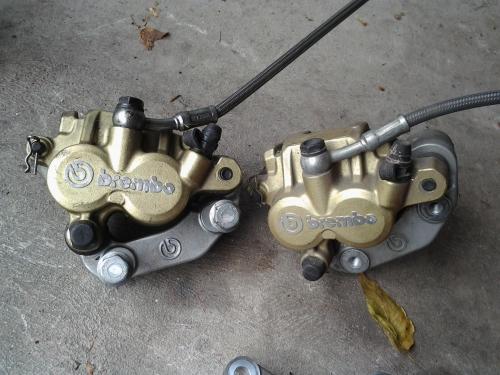 Thats about it for the day....