The CycleAnalyst, Formerly Known as DrainBrain, an Ebike Amp-Hour Meter
Version2 Units Production Update Schedule
After 3 weeks of beta testing, a few bugs and glitches have been caught and resolved and the meters are very soon going to be ready for general release. There are 3 models that will be produced to suite different vehicle applications.
Direct Plug In: This model is terminated with a 6-pin connector that can plug in directly to our motor controllers, or it can be used with 3rd party motor controllers that have been modified to bring out the relevant signals. If you have access to the motor controller's shunt resistor, hall effect signal, and throttle over-ride signal, and a little electronic know-how, then you should be able to wire this version into your vehicle and take advantage of all the new features.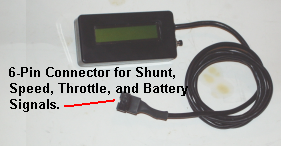 Here is a wiring diagram showing the tap point locations for the 20A Crystalyte controllers. Projected price is $120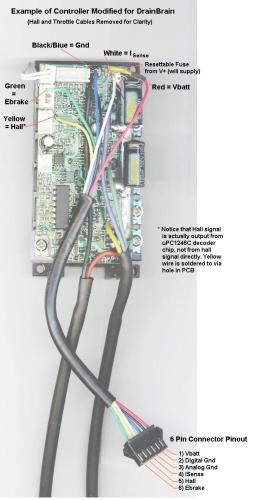 Stand Alone Model: This version is like the original DrainBrain units, with a supplied external shunt and speedometer sensor cable. It can be readily connected to just about any small electric vehicle by wiring the molded shunt between the battery pack and controller, and attaching a magnet to one of the wheels. The shunt looks the same as before, but it is now capable of 45 Amps continuous current and well over 100A peak. The resolution has also been increased to the nearest 0.01 Amps, so it can more accurately track small trickle currents. Projected price is $150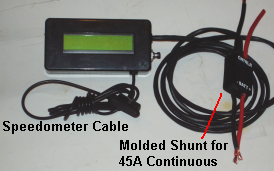 High Current Model: The last option is for vehicles that have even higher current requirements or those that already have an accessable current shunt. These units have an unterminated 4-conductor cable that needs to be wired to the user-supplied shunt resistor and V+ of the battery pack. These also have a speedometer sensor cable for sensing the vehicle's speed via a magnet on one of the wheels. Projected price is $145, which does NOT include a shunt.