Earlier this year I purchased 3 VX-1s sight unseen from a dealer in San Jose, CA. The dealer was an ex-Vectrix dealer who was moving their warehouse and wanted to dispose of some stranded stock that had sat for several years. . In the original Craigslist ad, the bikes were described as 2009 models.
2 of the bikes were claimed to be new with original titles. The third bike was a demo that had no title and had apparently been crashed before being put into storage. All the bikes had been sitting for at least 4 years from what I could tell. $US3500 got me all 3 bikes.

When I bought the bikes, I was living in Grenoble France on a one year assignment. I had the bikes shipped to my workplace in Albany, New York and put the project on hold until I returned.
On August 25th, I was back home again and finally got to see the bikes and start the process of bringing as many of them back to life as possible.
Key data once I saw the bikes:
Green Bike: SN 1770, Sept 2007. Sealed Plugs. COO title from Vectrix showed an August 2008 date from the factory. Appeared new.

Red Bike: SN 0106 (very early SN), June 2007 Sealed Plugs. COO title also dated August 2008 from Vectrix. Appeared new.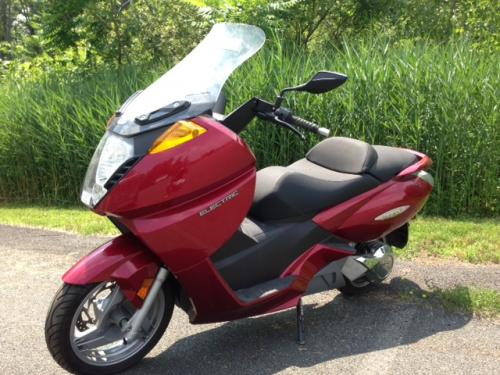 Silver Bike: SN 0496: June 2007: Sealed Plugs. No COO available. Lots of scrapes, a broken front turn lens and some damaged plastics fairing pieces. Badly oxidized paint.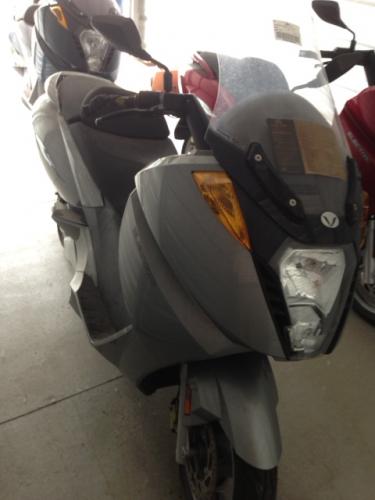 In preparation for the project, I bought an older Sorrensen 300V/6A power supply off Ebay to help recondition the batteries. I also bought a couple of 200A Bussmann fuses.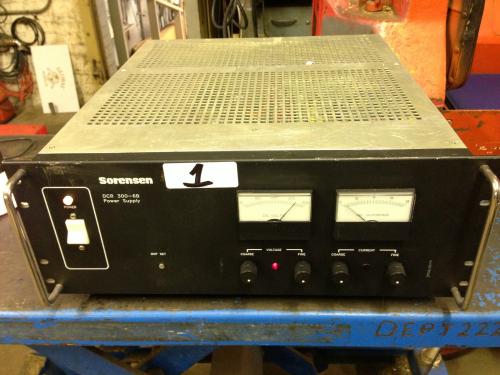 I downloaded the factory manuals off of the Vectrix Scooter Scene Site which have been very helpful for the dismantling and reassembly to access the battery packs. I can now get to the battery in about 30 minutes.
I started with the Silver bike in case I really messed things up. I followed the advice of Mik and trickle charged the batteries over a couple days to get them reconditioned. I monitored the pack in 3 sections to see how they compared and if any section was performing worse than the others.
Initially voltage was zero as expected. After 48 hours the pack was near 140 volts and all 3 sections were balanced. The bike did power up and I found that it had over 6000km on the odometer. A well used Demo bike. I was feeling pretty confident and decided to plug in the built in charger. NOTHING happened. Tried the trick to plug and unplug the sealed connectors up front but still nothing. Decided to take the bike out for a quick ride to see what else might be going on. The bike does function but the rear gear noise was not pretty. After a quick 15 minute ride, I rechecked the battery voltages and found the middle section voltage was lower than the other 2 by a few volts. Put the power supply back on and immediately saw the same section shoot way above the other 2. Pretty sure there are some shot cells in that section. Time to move on.
Moved to the Green Bike next.
I followed the same slow charge process for about 48 hours. The 3 battery sections stayed balanced and when the bike came to life, I found this bike really was new with only 50 km on the odometer. As Mik's suggested, I also installed resistor protected taps that allow me to monitor the 3 voltage segments and diode protected taps to recharge a dead battery without having to disassemble things. At about 48 hours, I plugged the bike in using the on-board charger and it worked immediately. This bike has the newer factory charge software which worked as expected. I let the charger complete its cycle then took the bike out. Only got 12 km until red light came on and power backed off. Decided not to worry just yet and this time let the charger manage the full charge cycle. Next time out I got 50 km around the neighborhood at 50-70 km/hr. Following charge cycle I got 60 km mostly out in the local hilly country side with lots of time at 70-90 km/hr. I think this is pretty close to new based on what I have read so I am very pleased. I have so far put about 300 km on the bike and have found no issues. I do know I have the older MC software with the 100 km/hr max speed limit. I have tried multiple laptops but so far have not managed to connect using my PCAN device. Will figure that out next week.
Red Bike: Pretty much exact same story as Green bike. Has about 300 km on the odometer but appears to be working very well. I have not had this bike out as much as the Green bike which is properly insured and licensed. Once my wife completes here MC training course, we will put this on the road for her.
Conclusions: It looks like I have 2 functional bikes with decent batteries and no apparent issues. I still need to replace the fuses when I have a couple hours but otherwise will plan to use the bikes as is for the rest of this year. The third bike will serve as a decent parts bike. So far I am really loving the bikes and the ability to park the car most of the time.